Six Simple Steps for Finding Talent Agencies
An insider's guide to using Call Sheet's talent agency directory
by Ryanne Laratonda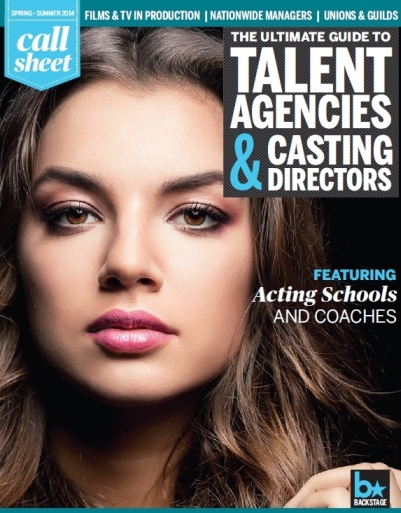 Step One: Determine what kind of agent you want.
Different agencies specialize in different things. Some agencies cast a lot of commercials, some work in television, and others focus on modeling. Highlight the agents that specialize in your chosen field(s). Also take note of the age range they represent to make sure you fit within their specifications. Click here to search the Call Sheet database of talent agencies.
Step Two: Go to their website.
Read about the history of the agency. How long have they been in business? Do they have offices in multiple cities or countries? Some of them have sections spotlighting their clients. See if these people are at a similar place in their career. Many of the websites also have a section that lists their recent bookings. This tells you with whom they are connected and where their clients are getting work. 
Step Three: Take note of their union and organization affiliations.
If they are SAG-AFTRA franchised, this means that they comply with SAG-AFTRA guidelines, and you can contact the union with any inquiries. Also take note of any trade organizations they are a part of, such as the Association of Talent Agents (ATA) and the National Association of Talent Representatives (NATR). Members of such organizations may be licensed and regulated by state and local agencies, or have agreements with actor unions such as the Actors' Equity Association. Research any affiliations with which you are unfamiliar. 
Step Four: Scan their list of personnel to zero in on the specific agent with whom you would want to meet.
Many agencies have a few different departments, so make sure you are talking to the person in your desired field. Once you have a short list of agencies and names, do additional research on the individual agents. Many of them write blogs, have been interviewed, or have been featured in articles. Read anything the agent has said regarding their work and whom they like to represent. These resources may include tips as to what the agent is looking for in a submission. 
Step Five: Read the submission policy carefully.
After making sure your headshot and résumé are professionally generated and up-to-date, take special note of the agency's submission policy. While some agencies ask for online submissions, others still prefer hard copies to be mailed in. Follow the instructions carefully. Do not call or visit the agency if their policy asks you not to. Also take note of which agents accept postcards and invitations. Put their name and address on a list, and invite them to your next live performance or screening.
Step Six: Send out your materials.
After finding out how the agent would like to receive communications, print out a cover letter asking for a meeting. Make sure this letter is specific to the individual agent. Let them know why you are perfect for their agency in particular, and what details about their work interest you. If at all possible, invite them to see your next performance, and offer them free tickets to the event. Make sure that they know that you are actively searching for and creating opportunities yourself (giving examples if possible), but would welcome their help in booking additional auditions and jobs in the industry. Thank them for their time, and attach your professional headshot and résumé. 
Subscribe to Call Sheet today. Check out the Call Sheet database online at Backstage.com/CallSheet. Or download the latest Digital Edition of Call Sheet and entertainment-industry mailing labels.