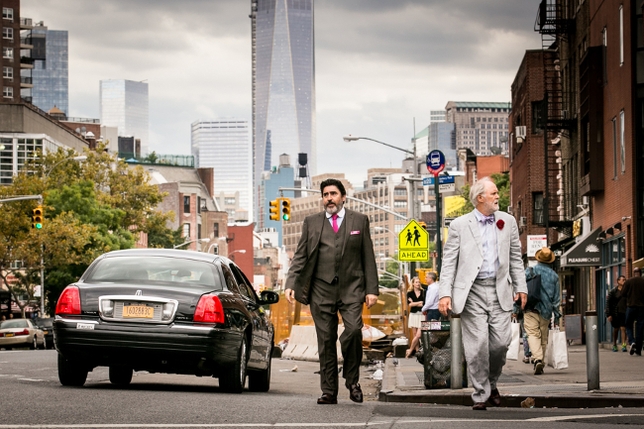 Alfred Molina and John Lithgow may sound like an unlikely couple—but certainly not after seeing Ira Sachs' new film, "Love Is Strange," a relationship drama made richer by its stars' history. "When I found out that John and Fred were friends—not close friends, but warm friends—for 25 years, I had a sense that there was a history there that they could work with to create the relationship," says Sachs. "What ended up happening on set was that they fell in love as friends. It was a romantic friendship that blossomed on set that was unstoppable."
The film opens with George (Molina) being fired from his teaching job at a Catholic school after marrying his longtime partner, Ben (Lithgow). For Sachs, that moment provides "a jumping-off point to talk about relationships, and particularly to talk about relationships from multiple perspectives." Forced to sell their apartment, Ben and George must also live separately while they search for a new place—Ben with George's nephew and his family, and George with his downstairs neighbors. These different living situations and new roommates allow Sachs to examine what he calls "the various seasons of life," including long-term love, middle age, and a young boy discovering love for the first time.
Sachs says this message of the film can be summed up in one moment. "There's a scene in the middle of the film where the two characters are reunited [after being] pulled apart," he says. "And we see them together on a bunk bed and then in bed together, talking. And I think in that moment, you understand the movie and what it's really about, which is intimacy."
And though "Love Is Strange" is an independent film, the director didn't skimp on the richness of his story to accommodate the budget. "I always think of my films within the context of where aesthetics meet economics," he says. "That's the nature of making art—not being naive about what is possible and getting what you need to tell the story you want to tell."
Inspired by this post? Check out our film audition listings!