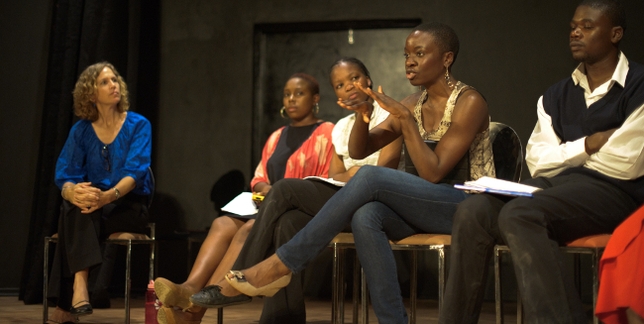 Between playing Michonne on AMC's "The Walking Dead" and launching "Familiar," her latest play inspired by the experience of being a first-generation American, Danai Gurira has her hands full. But the actor-writer values the theater training she's had and is now looking to provide similar training opportunities for artists living in her family's home country of Zimbabwe.
"I really thought I could help carve out and bring about the tangible structures that actually allow people to have an industry that runs," says Gurira, who has partnered with Patience Tawengwa to create Almasi Collaborative Arts, a Zimbabwean-American dramatic arts organization that encourages collaborative artistic growth.
When visiting Zimbabwe, Gurira saw that substantial theater training programs numbered approximately zero. Zimbabwean artists "were unable to get their voices out and get really great training in dramatic literacy," she says. "Ultimately, I decided I needed to make a systematic and systemic contribution to bringing Zimbabweans the best training." This need was evident when she and Tawengwa co-directed a production of her play "In the Continuum" and she was forced to take on multiple roles to get the show off the ground.
Gurira drew from her grad school years at NYU's Tisch School of the Arts and her experience in regional theaters (Center Theater Group, Yale Repertory, and the Goodman among them) to develop the Almasi program. But she didn't want to just replicate the American system: "It's about creating Zimbabwe's version of a professional industry and nurturing that."
Essentially serving as the organization's artistic director, Gurira recruited fellow industry professionals from all walks of life. "Knowing that they know how to teach and knowing that they have a lot to bring are important components of what I want the students exposed to in Zimbabwe," she explains. Most recently, Andre Holland arrived to teach Shakespeare and August Wilson to the program's actors.
"I love connecting those two parts of the world and seeing Americans go to Zimbabwe and experience Zimbabwe," says Gurira. "They come back changed every time, which is really exciting and thrilling for me to witness." And the creativity runs both ways; Tawengwa came to the U.S. last year to shadow Emily Mann at the McCarter Theatre as she directed "Proof."
The program is designed to train actors, writers, and directors to create a comprehensive group of artists, offering reading series, full productions, and class exchanges. "It's more of a teaching hospital–type idea. Our goal as we go forward is to have something along the lines of a Yale Rep–like school of drama."
Only 10 students or so participate in intensives, but instructors travel to give additional workshops, and full productions employ dozens of artists. Adam Immerwahr from the McCarter recently led an intensive while mounting a production of "The Convert." As a teaching director, he had mentees and designers shadow him to learn each step of the rehearsal process. "Adam brought the Equity standard procedures to the room and trained up our stage manager…our artists, our actors, and our designers," says Gurira. "[He] brought a great level of professionalism to the work."
Because Zimbabwe is largely a country of oral tradition, the structure for playwriting doesn't exist in quite the way you might think. Part of Almasi's focus is on giving storytellers the skill set they need to make sure their work can be replicated throughout the world. That cross-cultural fostering of talent will eventually, Gurira hopes, "nurture that group of next great artists onto the global stage."
Inspired by this post? Check out our audition listings!