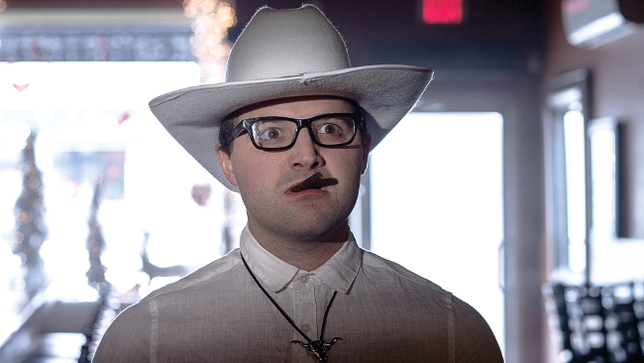 With so many popular and award-winning Web series streaming at the moment, it's not big news when a new one comes out. But it is interesting when a Web series begins with a more focused intention, like showcasing actors' talents specifically for others in their field. This is exactly what writer-director Ross Evans had in mind when he created "Ian."
"The way I designed the show is more like a medium for other actors," he says. "So my emphasis for creating 'Ian' was to cast all these really talented New York friends whom I met on Broadway or doing other theater stuff downtown. The protagonist is the one carrying the story forward, but he is not carrying heavy acting jobs."
"Ian," played by Evans, follows a 25-year-old virgin who is trying to find love and failing. It might sound clichéd, but the execution is remarkable, with each episode emerging as an homage to a different film genre. Each segment stars a different actor with talents well tailored to specific episode styles that range from film noir and kung fu movies to sci-fi and Westerns. "Ian goes into these fantasies and it's all about the people he fantasizes about," Evans explains. "They become the lead actor in every episode."
In addition to Ross, the series also stars Ariana Shore (Broadway's "The Performers"), with guest appearances from Jake Epstein ("Beautiful: The Carole King Musical"), Katie McClellan ("Believe"), Krysta Rodriguez ("Smash"), and other Broadway, theater, and television vets.
"Each episode is only five minutes and the audience really opens up in this way because you're not demanding a lot from them," Evans says. "That is the beauty of [Web series]—they are really for everybody because everybody has five minutes and everybody has a computer."
As for how the project was conceived, Evans says, "The show is a collaboration with Stage17, which is a new network that's all about promoting and combining film and Broadway." For Evans, Stage17.tv plays a key role in drowning out some of the noise in the fiercely competitive film and theater scene in New York City.
"I think the most storytellers in the world are located in New York, or at least 75 percent of them; it's so competitive, there are so many people who want to tell stories," he says. "The Broadway community is amazing, but there aren't enough outlets on Broadway for all [the storytellers]." Stage17.tv thus acts as a platform for emerging actors, writers, and directors to collaborate and express themselves within a curated environment.
Moving into these types of online spaces has revamped the actor's landscape. If, traditionally, the actor's showreel has been the proof of talent, charisma, presence, and artistic range, the Web series might be the new way to fulfill the role just as well, if not better.
But it's not all about the reel. For actors, Evans stresses the importance of "finding your own truth." "There is no such thing as 'the truth' in acting—there is only 'your truth,' and as soon as you find it, it's amazing in how many ways it's going to manifest itself."
Like this story? See more of our Now Streaming articles here!