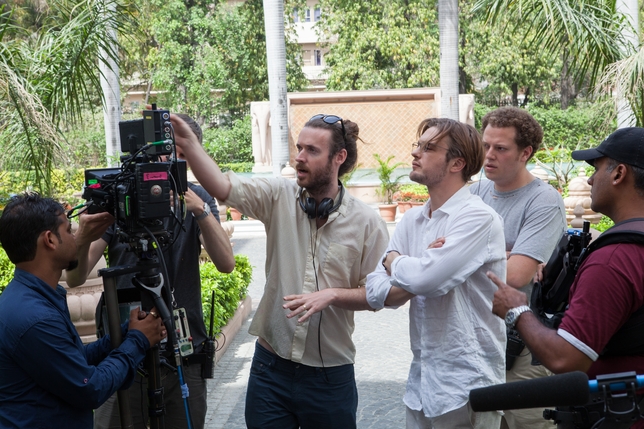 Mike Cahill's the type of person who can't pass up a challenge no matter what. "I'm the guy that if you want to keep me in a room, give me a paper ball and try to get me to get it in the trash can; I'm going to keep doing it until I score," says the director. This characteristic—combined with a seed "Boardwalk Empire" actor Michael Pitt unknowingly planted in his mind—is probably the only reason his film "I Origins" is out in theaters today.
"I had the concept for a bazillion years but it wasn't until I met Michael [that I really wrote it]," says Cahill, who also directed Sundance winner "Another Earth." "It's kind of a legendary meeting now, fallen into the lore of great fated afternoons! We were sitting down and chatting, we just totally vibed—we were on the same wavelength in many ways.
"One thing led to another and I told him the story of Ian Grey [the film's main character] and iris biometrics and the study of the evolution of the eye. He was compelled by it and he said, 'You should spend some time on that [script]—that one's great.' " When Pitt went on to tell the director about Gus Van Sant, who wrote whole scripts in days, something clicked for Cahill.
"He challenged me on this and he didn't even realize it," he says about the actor of whom he'd been a long-time fan. "So I churned out a script in about two weeks, which was really fast for me. I sent him the first draft, he really liked it, and we started working together."
Cahill says Pitt contributed massively to the development of Ian, a molecular biologist who's working to prove once and for all that evolution isn't a theory by studying the eyes. When he takes a picture of a mystery woman and coincidence brings them back together, he falls into a whirlwind romance with her. Remarkably played by Astrid Bergés-Frisbey, Sophi grabs at the loose thread that leads to the unraveling of the very fabric of Ian's profession and his beliefs.
The idea for the story came to Cahill in three parts: "I was once with my wife on an island in the Adriatic Sea called Brioni," he explains, "and there are these ancient Roman ruins on the island and they're right on the beach...then on the rocks, right on the water, there are dinosaur footprints, and I remember looking around thinking, Wait a second. This civilization has risen and fallen, their babies splashed in the puddle of these footprints, and yet they didn't know about dinosaurs. We didn't discover dinosaurs until centuries after. So I started thinking—what's our civilization's dinosaur footprint? What's right in front of our faces that we're staring at all day that we have not yet unlocked the secret to?"
Combining this question with the rise of iris biometrics—"All eyes are unique like a fingerprint, and from a simple in-focus photograph, you can extract an iris code that's unique to you"—and seeing the photograph of National Geographic's iconic Afghan girl, who was found 17 years later because of her eyes, Cahill had his story.
To prepare his actors, Pitt and Brit Marling—who also plays a scientist—the three of them spent time at The John Hopkins Research Center. "My brother's a molecular biologist so I got to spend a lot of time in laboratories," he says. "I really wanted to make the scientists realistic; they're portrayed so cliché typically in movies. I wanted to capture the real spirit of that PhD student who's like, you know, a real person and makes love and has romance and is a normal regular person who's just also fascinated with discovery."
Cahill says his actors put the flesh on the skeleton of his written scientists. "What I noticed about all these great actors is they know their backstories so intimately and it moves them," he explains. His advice for actors on capturing a character's story? "Figure out what your character was doing on their 10th birthday."
"I Origins" is out in select theaters today, July 18.