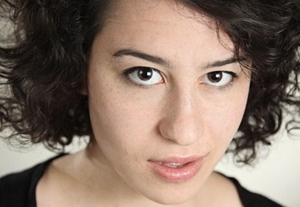 With her comedy partner Abbi Jacobson, Ilana Glazer is one half of "Broad City," a web series that the pair is now developing as a TV show for FX. Their videos have featured guest stars like Hannibal Buress, Kristen Schaal, and even Amy Poehler, who is executive producing the FX project with Glazer and Jacobson.

"Broad City" will be filmed in New York, where NYU grad Glazer also performs standup at UCB, the PIT, and downtown and Brooklyn venues like Union Hall, Happy Ending, Pianos, and Parkside Lounge. She and her older brother Eliot, who is also a comic, co-produced "High School Talent Show" at UCB for three years and created the viral hit "Shit New Yorkers Say."



Thanks to "Broad City," Glazer's been featured in the Wall Street Journal, New York Times, A.V. Club, and more. Now she's gaining a following of her own, and was nominated for an ECNY Award for best female standup. In addition to "Broad City," Glazer is currently working on scripts for an animated pilot and a live action feature.

Read our Back Stage Q&A with Ilana Glazer:

When did you get started in comedy?
Ilana Glazer: All my brother Eliot and I did as kids was film sketches. I remember that – I have to, because there's video evidence. When Eliot first turned me on to Stella, I realized there was more to the comedy world than just "SNL."

So Eliot went to NYU and is four years older than me. I decided I would go to NYU so I could get into the comedy world and have legit housing, and my parents would not have trusted investing in a straight-up comedy career. Eliot waited to take UCB classes until I lived in the city, even though he was already ingratiating himself in the "scene," if you will. Working with El in improv honestly was challenging. It was hard to "lose myself." We also talk incessantly. Bobby Moynihan of "SNL" used to be our practice group coach and would beg us to stop talking on the back line, an incredible faux pas in improv.

I miss improv. I hate it in a way – watching it, doing it – but only because it's so challenging and nerve wracking. Improv is the only belief system I've ever experienced that directly works on how to be. Just how to be. It teaches you how to act and it gets you down to your core choices, choices you would have made as a kid.

How did you and Abbi Jacobson develop "Broad City"?
Glazer: I met Abbi not at UCB but out of it, meaning a practice group that was created by students who were not getting on [UCB's improv or sketch] house teams but wanted to exercise the improv muscle. That was very lucky. We were inspired to create material for ourselves. We found our dynamic entertaining to us and hoped others might feel the same way. But you can't know until you put it out there.

We had both accrued networks of talented people we liked to be around and started reaching out to people. If people believe in your material, they will do whatever it takes to get it done. Even if they don't, but you make it as awesome an experience as possible, they will help you reach your goals. You do favors back, but it's cool because you already liked these people before working together. Then you work together and now you love them. Seeing people come together for our work was a really magical experience.

Can you explain how Amy Poehler and FX became interested in bringing "Broad City" to TV?
Glazer: When Amy filmed with us, she asked if we had plans of expansion. We had a pilot ready and a couple production companies interested. Then we asked her if she wanted to executive produce. She did. Then we had a new game plan.

More than just FX was interested in hearing the pitch. Everybody wanted to hear it so they could say that they heard it. They also all wanted to meet Amy, which is dope because we "cast a wide net," so they say. And to have her sweet little face in the room was invaluable.

How do you describe your style of comedy?
Glazer: My writing and performance style – stage or film, solo or group – has the goal of being as vulnerable as possible. I like having absolutely no fourth wall. I think the more vulnerable on stage you are, the more captivating the performance. This is what I feel is success on stage. It doesn't need always to be funny. What is funny? Funny is subjective. Whatever feels most terrifying, I want to go to there.

What advice do you have for anyone trying to start their performing arts or comedy career?
Glazer: Something I want to say to people all the time is this: Nobody cares if you are the next big actor or comedian. Nobody cares about you becoming rich or famous. Nobody cares. You have to want it so bad that you do what it takes to get it. You have to be your own fighter and lawyer and representation and stylist and publicist. You have to be your own cause, even if it feels lame and stupid sometimes. Define your voice and share it. That's your purpose. There's a reason entertainment is prevalent in every culture and society and time period. It's a human fundamental. We need each other, people. This is an important product. Also know that I'm writing this out for myself to have to read back.



Follow @ilazer on Twitter.

Read more about Glazer and the rest of Back Stage's "10 Comics to Watch" in 2012.