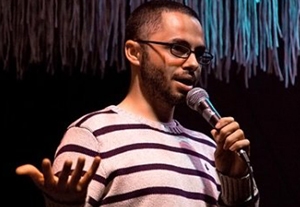 Joe Mande is one of the most prolific comedians on Twitter, most often using the social media site to retweet or comment on the most vapid, hypocritical, or simply ridiculous tweets from various celebrities and politicians. (NBA star Gilbert Arenas even deleted his Twitter account for a few months last year after the comedian drew attention to his sexist and misogynistic tweets.) He's also responsible for the popular blog "Look At This Fucking Hipster" and a book of the same name.

"On stage and in person, I think I am nice, thoughtful, and empathetic," Mande says. "But for some reason when I'm online, I become super aggressive and unhinged. I should probably get off of Twitter and see a therapist."

On top of his 140-character jokes, Mande has also appeared on VH1's "Best Week Ever" and wrote for the third season of Jon Glaser's "Delocated" on Adult Swim, the 2011 Comedy Awards, and Nick Kroll's upcoming Comedy Central series "The Nick Show Kroll." He and comic Noah Garfinkel hosted the long-running show "Totally J/K" at the UCB Theatre in New York, but Mande recently left the Big Apple to join the writing staff of the NBC comedy "Parks and Recreation" in Los Angeles. On stage, he's opened for the likes of Patton Oswalt, Aziz Ansari, and John Mulaney. Mande's half-hour standup special recently premiered on Comedy Central, and later this month he will be performing at the Montreal Just for Laughs Festival.

Read our Back Stage Q&A with Joe Mande:

Congratulations on starting your new gig as a writer for "Parks and Recreation." How's it going so far?
Joe Mande: All the other writers have resigned in protest of my hiring, so I have a lot of work ahead of me. But I'm excited for the opportunity!

You've opened for Aziz Ansari (who stars as Tom Haverford on "Parks and Rec") on his standup tour, right? How much did that relationship impact your being hired for the show?
Mande: I owe Aziz a lot for me landing this job. I believe we settled on $500,000. Which I have to pay in weekly installments. With interest. It's fucked up.

Was it always your goal to be a writer on a TV comedy series?
Mande: Yeah, I've always wanted to do standup and write for TV. It can be a little tricky to do both at the same time. I'll probably be doing a little less standup while I'm on staff at "Parks," but I'm fine with that because the snacks situation in the kitchen at my new office is next level.

You started your comedy career in high school in Minnesota, correct? What made you want to turn comedy into a career?
Mande: I wouldn't call what I was doing in high school "comedy", but yes, I suppose technically that is true. I moved to New York shortly after graduating from college in 2005. I wanted to get good at standup and promised myself that I would never move to Los Angeles. (I just moved to Los Angeles.)

My first time performing was in the black box theater of my high school's basement as a member of "Clownaz," the school's improv team. We charged money for tickets, saying the proceeds went to our school's recycling program. Then, immediately after the show, we divided up all the money and kept it. And that was the moment I realized I could turn this racket into a profession.

Who are your comedic influences?
Mande: I grew up watching Letterman, "Seinfeld," "SNL," and Monty Python movies. But nothing made me want to get into comedy more than when "Mr. Show" started airing.



Where can audiences see you perform most regularly?
Mande: UCB in L.A. and NYC. I love doing Meltdown and Largo in L.A. I assume I'll be at those places a lot more now.

What would you consider your "big break" so far?
Mande: I don't want to jinx it, but I've got a good feeling about this article.

Follow @joemande on Twitter.

Read more about Mande and the rest of Back Stage's "10 Comics to Watch" in 2012.