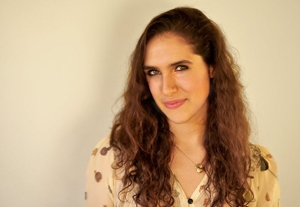 Originally from Portland, Ore., Megan Amram moved to L.A. in 2010 after graduating from Harvard and immediately started a Twitter account. Within a year, she had amassed thousands of followers thanks to her often twisted, always absurd 140-character jokes. (Recent tweets: "Macular degeneration = nature's Instagram filter," and, "If you only see one movie this summer, maybe see more movies, they're great!")

Comedians Patton Oswalt, Peter Serafinowicz, and Rob Delaney are among her faithful followers. "It's insane to have your jokes and comedy writing read and appreciated by your heroes," Amram says.

Based on the success of her Twitter account, Amram was hired for her first professional writing job in 2011, for the Academy Awards. That was followed by writing gigs at the Disney Channel show "A.N.T. Farm" and this year's MTV Movie Awards. This summer, she started her dream job when she joined the writing staff of the NBC sitcom "Parks and Recreation."

Read our Back Stage Q&A with Megan Amram:

What can you tell us about your new gig as a writer for NBC's "Parks and Recreation?"
Megan Amram: It's an absolute dream come true. I truly believe that "Parks and Rec" is the best comedy on television. We've been writing for a few weeks now, and it's a blast. Every single writer is unbelievably thoughtful and hilarious. It can be daunting to be writing with such great writers, but mostly I think it will make me much better.

I am very excited to write for Leslie [Knope, played by Amy Poehler] herself, since I think she's such a perfect mix of a woman who's funny and achieving and vulnerable and loving. I also am obsessed with Ron Swanson, as everyone should be.

Did you always want to make comedy your career?
Amram: I didn't know I wanted to pursue comedy until college. It's a running joke in my family that I didn't make a single joke until I was 18. My twin brother was always the funny one. If you ever need funny ways to call me fat, he's your guy.

You're the only comedian on this list who isn't known for live performances. Did you have any aspirations to be a standup comic?
Amram: I tried standup comedy right when I moved to L.A., but it just wasn't my thing. I love to write and I love to act, but standup is its own beast. I still perform around L.A. but it's usually a little more free-form.

I am friends with a ton of standup comedians, though. I have so much respect for people who go through the grind of standup. Maybe I'll try it again in the future.

I was an extra in TV shows when I first moved to L.A. If you look closely, you can see me as an unnamed Jew extra in an episode of a Nickelodeon show.

How has Twitter helped advance your comedy career?
Amram: I owe everything to Twitter. Twitter completely facilitated the start of my career. Not only has Twitter made me a better writer, it has accelerated my trajectory. I was definitely "discovered" on Twitter.

I feel like it's a new way of showing a portfolio or spec script. I am able to show prospective employers my Twitter to prove that I can write (hopefully) good jokes on a consistent basis. Also, that I have a funny picture. Also, that I can use the Internet on a very basic level. Also, that I'm on JDate.

I started tweeting about two years ago because some of my college friends were doing it for fun. I just wanted to make my other funny friends laugh and force myself to write jokes every day. I had no idea what Twitter could do. I had no idea what the Internet could do. What's an AOL? Is it a Bing?

What do you think are the positives and negatives of being a comedian on Twitter?
Amram: The positives are definitely how accessible it is. My dumb jokes are read by comedians, writers, actors, athletes, civilians, criminals, and Jews everywhere around the world, 24/7. (Did you know Jews are nocturnal? They can read at night!)

The character limit has taught me to be economic with my comedy. You can get all the elements of a joke in there in 140 characters. It's a puzzle.

What are your goals for your career?
Amram: I have been so lucky to have been able to write professionally, consistently, since I graduated from college. I just want to keep doing that as my job. If all else fails, I would be happy to write copy for the food descriptions on menus at the Olive Garden. I also would love to move into making my own stuff, being in front of the camera, winning the Nobel Prize for comedy, etc., etc. My dream of dreams is to write Broadway musicals.

I love male-centric comedies. My first real comedy "heroes" were Tim and Eric. I love Woody Allen. I love Stephen Sondheim.



What advice do you have for other aspiring comedy writers?
Amram: Just make sure you're putting yourself out there. Whether that means writing a lot of scripts, doing standup, or tweeting (I can't believe I just said that), I think it's so important to just keep creating things. It's easy to feel stagnant or overly competitive in this field, and I find the best way to combat negative feelings is to keep making things.

Try to be kind to your friends. They often become your colleagues.

Also, don't listen to me. I am 24 and got my jobs by tweeting. What do I know?

Follow @meganamram on Twitter.

Read more about Amram and the rest of Back Stage's "10 Comics to Watch" in 2012.