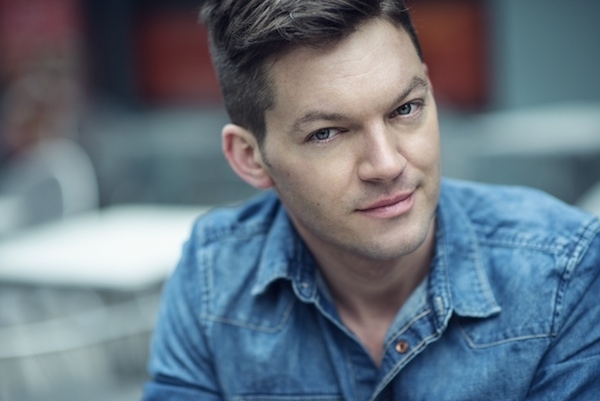 After studying drama at Vassar College and acting professionally for 15 years, Matt Newton finally discovered his true passion.
Since creating the MN Acting Studio in 2009, Newton has realized his love of coaching. "I can use my acting training and experience on set and pass it along to students who are looking to break in and enhance their skills, and tell them what they're essentially getting into in a very real and honest way," says the NYC-based teacher.
"I think I miss it to a certain extent," says Netwon, referring to his professional acting days wherein he played roles on TV shows including "Ugly Betty," and in films such as "The Men Who Stare at Goats" and "Poster Boy."
"But I feel like that was a chapter of my life. And now this other chapter has sort of been presenting what I know to these students and helping them understand that world.
"So in other words, I don't see myself going back to it because of what I've built now, which I love so much. I get much more passionate about one of my students getting a job than me getting a job," he adds.
Offering advice to his private coaching students, class students, and Backstage Readers (as a Backstage Expert), Newton is determined to teach actors what he wish he knew when he started out in the business. We chat with Newton about his studio, advice for actors, what he learned from one of his worst auditions, and why you might want to become one of his students.
Because of how he runs the MN Acting Studio.
When Newton decided to open up a studio after his private coaching business took off via word of mouth, he "thought a lot of these people want to be in a group setting where they can learn from watching other people, which I think is a really, really important part of the process." Newton created classes with eight to 10 students, noting that small class size is exactly what worked for him when he was training.
"I wanted everyone to have some personal attention and everyone to work on-camera and get personal email feedback after each class with their video," he explains. "The point of the studio became working actors teaching other working actors how to get work.
"The other teachers I've brought on have worked on tons of TV shows and films and we're all just giving our perspective and not pretending to be experts at all, and we each have our unique experiences and we want to pass that along."
The goal is to give students a "quicker path to figuring out the marketing side of it and the auditioning side of it," Newton says—not a quicker way to success, just a more efficient way of understanding the business. Students of the MN Acting Studio span all different levels, from beginners to well-known actors, and from ages 8–65.
Because he gets personally invested in his students.
Like many coaches, there's nothing but joy for Newton when a student experiences an aha moment—"when they finally understand what's happening in the scene and can breathe life into these words that someone else has created for them.
"And again, if you're putting this on camera, doing it in a very small, subtle way so that we get a sense of who they are as a person, but they're not pushing any of the emotions. And if that leads to them getting a job then that's absolutely wonderful," says Newton, admitting that he gets "very, very nervous and personally invested" in his students.
"Sometimes I actually feel like a manager," he says, laughing.
Because he knows the most important thing to bring to your audition.
Newton says if he could give just one piece of advice to actors it would be to learn how to walk into a room with confidence. "I'm very big on body language and confidence and really owning what you're doing, and being as sure of yourself as you can with that unshakable confidence that is so attractive to casting directors, agents, and directors."
During a commercial audition for Kellogg's Pop-Tarts, Newton learned a lesson in confidence. Pretending to be dancing in a club with an imaginary Pop-Tart, Newton says there was rap music blasting and he had to deliver the line, "Word up, Poppy?"
"I had to imagine this little tiny Pop-Tart in the middle of the dance floor spinning and spnning around," recalls Newton. "It was like, Pop-Tart's cool; it's in the club. I was just not cool in that situation. I was very embarrassed.
"That was before I realized the importance of confidence, and even if you think it's the silliest thing in the world you go in there like you're having the best time and you love it, and don't let anyone see you sweat."
Inspired by this post? Check out advice from our Backstage Experts!