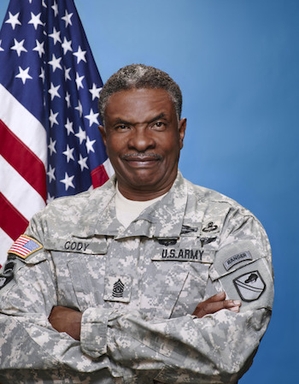 Listening to actor Keith David's voice over the phone, it's easy to understand why both he and his gravelly rasp have become iconic on the screen and stage respectively since one of his first major roles in the 1982 horror/sci-fi feature "The Thing."
For David, there's been no shortage of work since he first started acting in the early '80s. Throughout the span of his career he's credited for 225 different roles (both voice and screen), and has worked with the likes Darren Aronofsky and of course, Oliver Stone—playing King in Stone's Touchstone war drama, "Platoon." And now, still in stride as before, David's career continues to plow forward.
David's most recent role as Sgt. Major Donald Cody in Fox's new military comedy "Enlisted," though still focused on military life, is a far cry from the raw grit of "Platoon," and as always, a new and inviting endeavor for David's career.
Here, David discusses with Backstage the duties of an actor, how to break onto the scene, and more.
Be adaptive.
The most striking thing about "Enlisted" is the ambitiousness of the concept. Towing the line between the potentiality for seriousness and the comedic essence of a show like "Enlisted" is certainly no easy task from a writer's standpoint and in turn adds an extra layer of complexity for actors like David. For him, however, challenge is never a dirty word.
"In the hardest of situations, you will find some humor in it." says David. "We try to handle some serious situations with a sense of humor. On the other hand, it's a working place sitcom, we're not out on the field fighting, we're backstage... It may pretend to have a certain kind of seriousness, because it is the army, but people do laugh in the army."
Study, study, study.
Whether on- or off-screen, David has one piece of all encompassing advice for those seeking to break into either voice or screen acting: "study."
"Study acting. Voice acting is still acting... If you don't know how to act then the voice is empty. If you know how to work, and you know how to act, then the voice is engaging and that gives the animator more to animate," he says.
David believes that theater may be one of the most valuable mediums that striving actors may call upon for enlightenment. "Study theater, because theater is the greatest training ground that you can have." he says. "There are people who have never done theater who can be wonderful screen actors, but it all depends on your training. We all have great natural instincts, but they need to be honed."
Theater or screen, remember that work is work.
David is currently gearing up to play Paul Robeson, an African-American singer who was also a staunch civil rights activist, in an aptly titled play called "Paul Robeson." When asked about his preference in terms of screen versus theater, David chooses both. "I like working," he says. "The theater is still the one place we have to examine what it is to be a human being."