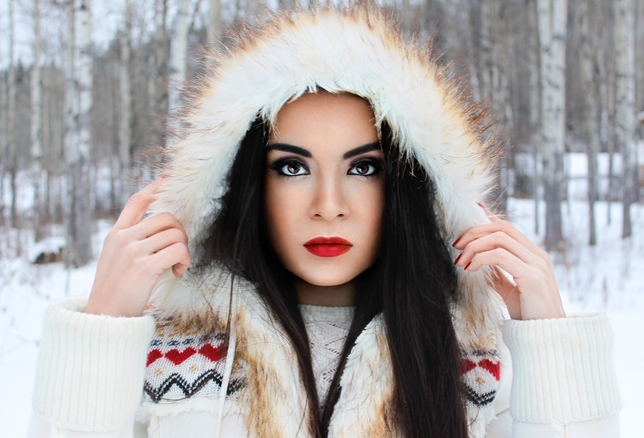 The Native American culture is one laden with stereotypes, and thankfully we have some artists working to dispel them. Actor, spokesperson for Native American people, and model Shauna Baker stars in "Drunktown's Finest," a selection in this year's Sundance Film Festival. The film follows three teenagers as they work through their various personal issues, which include unplanned pregnancy, cultural isolation, and struggles with gender identity. "Drunktown"—named as such in response to "20/20" dubbing director Sydney Freeland's hometown of Gallup, NM "Drunktown, USA" in the late '80s—sheds some light on a culture notoriously viewed by outsiders as a life focused on alcohol, casinos, and being "confined" to a reservation.
Backstage spoke to Baker about self-reliance to land roles, people's typical response to her ethnicity, and what she hopes the film will accomplish at Sundance.
Proudly represent who you are.
Hailing from British Columbia's Stellat'en First Nation reservation, Baker, who is a twin, grew up fully immersed in Native life. She hopes "Drunktown's Finest" will clarify her people's experience for those who didn't even know Native Americans are still around. "Living in L.A., I find that when I do meet people and they ask me what my ethnicity is and I say I'm Native American, a lot of people act like they thought we didn't exist. 'Really, you're Native? Nah!' I'm like, 'Yeah, I'm Native,'" says Baker. "I'm usually the first Native person people meet in L.A. I think this movie is amazing because it does show that we do exist, we are out there, and we are urban Indians. We're out in the city, we don't all just live on the reservation. Basically just people understanding Native Americans, that's what I would love for people to get out of the film."
Learn when to disconnect.
In the film Baker plays Karah—Drunktown's undisputed mean girl—who bullies Felixia (Carmen Moore), a transsexual woman who enters a beauty contest. While she was a lot of fun to play for the Canadian actor, their drastic personality differences forced Baker to take some drastic measures. "Because I get along with Carmen, I had to kind of disconnect myself while filming because I didn't want to disengage myself from the character of Karah," says Baker. She avoided Moore on set and apart from small talk over whether she needed to pass over the sugar for Moore's coffee, they had little conversation. "I think that's one of my biggest challenges, is disconnecting myself, but [Karah] was a lot of fun to play, and after we were done filming, I was like 'OK, Carmen! C'mon, let's hug this out!'" After the movie's completion one of the producers couldn't believe just how nasty Baker got on screen; Karah was a completely different woman from the woman he had met.
Rely on yourself as much as you do your agent.
Over the five years it took to get "Drunktown" cast and shot, Baker auditioned for the movie four times. On the audition (a self-tape, mind you!) that landed her a role, she had reached out to director Freeland on Facebook about auditioning only to find out her agent had already landed her one. "Look at breakdowns just as much as your agent is looking at them," says Baker. "You are your own business and you have to treat yourself as a business, and I feel like a lot of actors don't. Your agent wants to make money and you want to get out there, so you have to put yourself out there as much as your agent does."