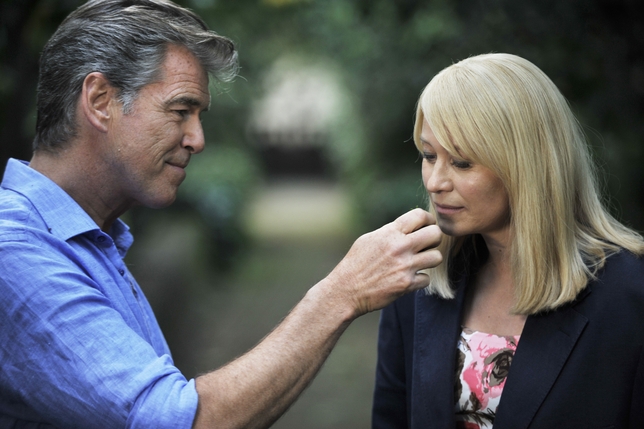 The former 007 shows his softer side in Susanne Bier's nontraditional romantic comedy "Love is All You Need," a heartfelt and witty story of a woman recovering from cancer who falls in love with the father of the groom at her daughter's wedding. Known for action films like "James Bond" and "The Thomas Crown Affair," Brosnan has also ventured into the musical genre with "Mamma Mia!" He was actually shooting a romantic comedy with Sarah Jessica Parker when the offer for "Love is All You Need" came to him.
We chatted with Brosnan about the film, and he shared some advice for actors.
Trust your director.
When Brosnan was offered a part in what was then called "The Bald-Headed Hairdresser," he was impressed by the script and by director Susanne Bier's previous work, but he was a little concerned about how he would fit into a Danish film. "I [didn't] want to upset the apple cart, Irish actor in a Danish movie," he says. Bier assured him that she'd make it work and she did. "I was very nervous, but Susanne is very persuasive and a very confident woman, and a very competent filmmaker and director," Brosnan says. So he just surrendered to the piece. "I didn't have to learn a lick of Danish," says Brosnan who only improvised one phrase in Danish for the film. Bier's script and direction allowed for the English scenes to be interwoven with the Danish scenes and when he viewed the finished film in Paris, he was able to see for himself how well he fit in.
Act from the heart.
Despite not having to speak Danish onscreen, Brosnan did have to communicate with the Danish cast, but luckily they all spoke English. He says connecting with co-star Trine Dyrholm was easy because he'd seen her in "A Better World" and was already captivated by her presence. "We started reading the play and Trine and I sat together and at one point I found myself reaching out and holding her hand as we read," says Brosnan. The character development came naturally. "Actors have an innate sense of self and humanity, the good ones do, and of being generous of heart and generous of spirit," he says. "So when the text is meaningful and has richness of character and story-telling, it's easy to fall in love, it's easy to go to war, it's easy to enter into the dream world of literature and the make-believe of literature to create the dream, and most movies are like dreams."
Build a strong backbone.
Brosnan trained in experimental theater and then had his formal training at the Drama Centre in England. "It's the backbone of my career," Brosnan says of the stage. "I realized within the context of [the method training], that I didn't have to do every exercise to get to the role," he adds. "Because sometimes you just pretend. If you get it for nothing, if it's there on the page, if you can create it with the immediacy and sincerity then you don't have to jump through all those method-oriented hoops. They're tools that you use when it's inaccessible." But his training didn't end there. " 'Remington Steele' when I came to America was a work ethic and a training with the camera which was demanding, exhausting, exhilarating, because of the time constraints and the amount of work for each season," he says. Brosnan feels every stage of his career has helped build and mold him into the actor he is today.