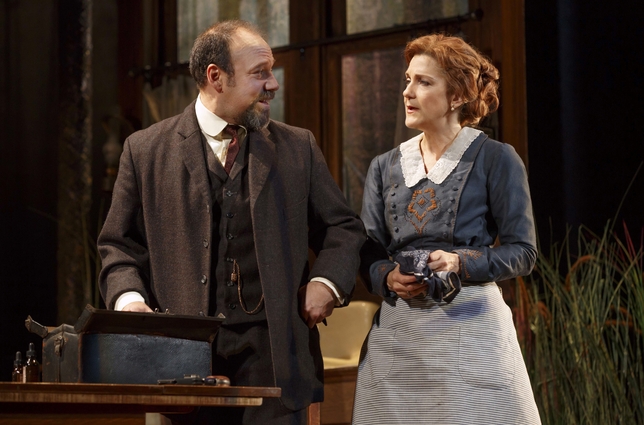 Victoria Clark is mostly known for her work in musicals like "Sister Act" and "The Light in the Piazza," for which she won a Tony. But now she is fulfilling her dream of acting in a play on Broadway with Sharr White's "The Snow Geese," currently running at the Samuel J. Friedman Theatre.
Clark plays Clarissa, who is staying at the family hunting lodge with her recently-widowed sister Elizabeth (Mary-Louise Parker), husband Max (Danny Burstein), and nephews Arnold (Brian Cross) and Duncan (Evan Jonigkeit), who is about to go off to fight in World War I. "I love this woman, Clarissa," says Clark. "I think she's a wonderful character and very complex."
In order to do this play, Clark had to take a temporary leave from playing the Fairy Godmother in "Rodgers + Hammerstein's Cinderella," which she will return to in January. "It was [hard to leave 'Cinderella'] because that's a real family there. Great people. And it's a very fun place to go work because the music is so joyous," she says. At the same time, "The Snow Geese" is less physically demanding, since she doesn't have to wear heavy costumes and two mic packs and worry about keeping her voice in shape. In fact, this role requires her to sing out of tune for a scene in which Clarissa puts a hymn on the phonograph and sings along.
"Her faith is strong and those hymns sustain her. She can't sing in tune, but her heart is in it," Clark says. "It's really challenging because my whole life I've sung. It's hard to find the right balance of singing something that's very heartfelt, but without making fun. The fact that she puts on the hymn and sings, that's only made possible by the fact that everyone else is out of the house or asleep upstairs. For me that moment is about having the space to be who I am without being guarded."
We spoke to Clark about what it takes to create a character, including researching a role, working with other actors, and more.
Find your own language.
Before the house lights go down, Clark and several other cast members are already on stage, preparing breakfast for the first scene. The family eats at 5 a.m. before the brothers go on a hunt. In the pre-show, there is room for improvisation. "I really love that part of the show because once the house lights go down I'm already in it. I'm already there," she says. "And it's nice to improv in that world without Sharr's language. Just to find our own language. I think that's really useful for actors."
Research.
"I never leave a part when I'm doing it. I dream about it. I think about it all the time," Clark says. She does extensive research for her roles. For this role, that meant reading up on the time period and making a family tree that goes back a few generations. "It's extremely important that I know when that house was built. Did my dad work on it? Whose phonograph is that? Whose records are that? When I plump the pillow in the preshow, where did we get the pillow? Whose pillow? How much of my own stuff is in that house?" she says. She is currently reading "Little Women"—because of the language and because in her mind, Clarissa's dad's family came from the Boston area as did Louisa May Alcott's—and books about etiquette, which is extremely important to Clarissa.
"For me, it's been the marvelous way to keep my head in the game with acting. It's unlimited the amount of research you can do because it's all based on your imagination," Clark says. "You really immerse yourself in the period so when you walk on set, I know where every piece of furniture came from and I understand my relationship and I understand the times that I'm living in. So that makes you feel safe. If you feel safe, then you can take risks… Before you know, it you have a character."
Let your costars work in their own way.
It is mentioned in the play that Max and Clarissa had a daughter, Anastasia, who died, but a lot of their history is not in the script. She and Burstein, who have worked together before, let each other develop their own process. They did decide together how old Anastasia was when she died and what she died from after doing more thorough research. (They decided she was six-years-old when she died of polio). Beyond that, they didn't discuss much. "Even if you and I decided as actors this and this and this, it doesn't really matter if I have my own story and you have your own story as long as the story is vivid," she says. "The audience won't know if it's something we both [came up with together] if it's backstory."
Find the joy.
Even in a depressing play like this one, it's important for Clark to bring joy into her work whenever possible. "There is joy to be found in every character and that's why I go to the theater," she says. "I want to see people find their joy... There is so much joy in this cast. We are very close, and we are telling a very intense story but there are these moments in every single scene where they break out and I think that's what levitates the play. Sharr White did a good job finding that, and I think that's real—those eccentric moments where people find and do things even on the most horrible days. There is joy. There is joy every day."