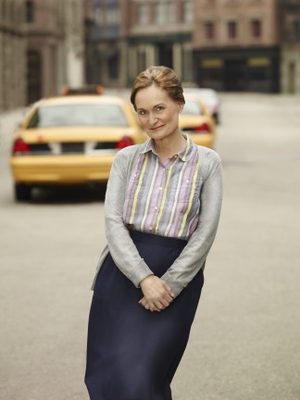 If any character actor could be called beloved, it has to be Beth Grant. You've seen her face (and heard her distinctive clipped Southern accent) even if you don't recognize the name; she's been in everything from "A Time to Kill" to "Speed" to her latest regular job, as Nurse Beverly on Fox's "The Mindy Project." We spoke to Grant on her day off from filming "Mindy" (she was using it to film a guest spot on new CBS sitcom "The Millers") about having more work in her 60s than ever before in her career.
Let the writer convince you.
Grant is loved far and wide for many things, but probably not as fiercely as by fans of her work in the play, film, and subsequent TV series "Sordid Lives," about one gay Texan's wild and wacky family. "I buy the DVDs in bulk because it's against the law for a gay man to not own a copy of 'Sordid Lives,'" says Grant. But she wasn't originally convinced she was the right person to play chain-smoking Aunt Sissy, telling writer Del Shores, "I love it, but she should have real leathery skin and be real skinny." But Shores showed her a photo of the real Aunt Sissy, and Grant was convinced she could do it. "She's just my grandmother," she says of her performance. "And it's been the greatest thing because every time someone loves her, it's like they're loving my grandmother. My grandmother was a real flirt and a flapper, and I know she's smiling in heaven getting all that masculine attention!"
Never say no to an audition.
Grant has been doing such excellent work for so long that it seems like a criticism of Mindy Kaling to admit that Kaling was unfamiliar with Grant's career. But that's why Grant was asked to audition for a guest spot on the show last season. "And aren't I glad I wasn't a snob!" Grant says, laughing. "Aren't I glad I didn't let Beth's pride get in the way?" The result was that her guest spot quickly blossomed into a regular role on the show.
Don't write off vision boards.
Told by her friend Octavia Spencer to create a vision board of things she wanted to accomplish, people she wanted to meet, and places she wanted to visit, Grant dismissed the notion as "messing with the devil." But then she met Kaling. After working on her first episode, Grant came home "high as kite" from the work, and saw Kaling's picture on the cover of her Emmy Awards magazine. "I came home that day and I had a genuine, spiritual desire to be of service to her voice, as a feminist, because I just knew that kind of voice is so unique and needs support," Grant says. "Gertrude Stein says, 'All an artist needs is support.' So I ripped that picture off, glued it to a piece of cardboard, and put it behind the china cabinet and forgot about it." A few months later, Grant got the call telling her the show wanted her as a regular.
Don't be afraid to be a fan.
Grant heaps praise on James Franco (she appears in his upcoming film "As I Lay Dying," on iTunes Oct. 22) and Kaling both. "I know Beverly is pepper and I don't mind," she says. "I may only have one or two lines—but they're all good. And that's fine with me. Where I feel my true job is, is to be of service and support to this genius young woman. It is not easy to do it all and I just want to love her and support her."