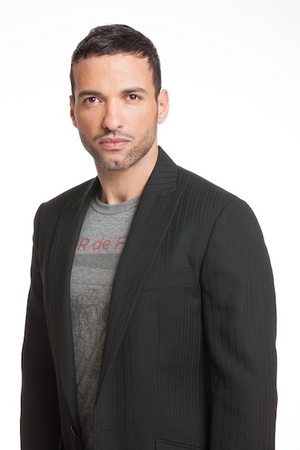 Haaz Sleiman has come a long way from Lebanon, and yet he feels an inherent connection to "Venice," a new musical loosely inspired by Shakespeare's "Othello" and currently playing at TNew York's the Public Theater.
"There's always something personal no matter how big or small the story is," says Sleiman, who moved to the States when he was 21. "I bring with me my own experiences, my own point of views about life, the ups and downs and everything…It's just inevitable for that to live in there. That's a big part of the reason why we do what we do."
Sleiman, who is also making his Public Theater debut as the title character in "Venice," has never appeared in a musical before—he started out pursuing a career as a recording artist. "Venice" brings him full circle.
"It's kind of poetic," he says of returning to singing. "I never ever thought that I would really be where I am today as an actor, doing a musical. It's just crazy to see how this all unfolded."
Have a back-up plan.
Although he always knew he wanted to be a performer, Sleiman earned his bachelor's in computer science at Wayne State University in Detroit, Mich. "It was to please the family," he says. "They were like, 'Listen, you could do whatever you want. Just go sing your heart out or dance or whatever you want to do. But do this for us, so we just make sure you'll be fine and covered in case.' "
Challenge yourself.
Sleiman has continued to push himself to his artistic boundaries, and he cites performing in a musical as one of the most exhilarating, though daunting, tasks as an actor. "I don't know exactly what kind of training musical theater actors get, but I never had that. So for me to be part of this is, exciting as it is, nerve-wracking," he says.
And throughout the process of working on "Venice," Sleiman has developed a newfound respect for musical theater performers. "I mean musicals look beautiful and great and fun, but man, when you're getting into it, you got to be on top of it," he says. "It's way more than just a regular play, I'm finding…This is quadruple more work."
However, Sleiman says being uncomfortable as an actor is the only way to mature.
"It's challenging me to expand," he says. "I haven't really been in the situation before [and I'm] putting myself in an uncomfortable place. It's the only way you can really learn and grow.
"Whatever it is that you are doing as an actor, if it frightens you, if you're scared of it, you need to do it," he adds. "I could fall flat on my face with this musical because I've never done it before, and I'm like, 'Holy crap! Can I do this?' And I'm like, 'Good, that's exactly where you need to be. Pull yourself together.' "
Make the old, new.
"Venice" is loosely inspired by Shakespeare's "Othello," and while Sleiman calls himself a "Shakespeare fan," he's most excited about bringing Matt Sax and Eric Rosen's hip-hop-inspired interpretation of the text to life.
"It takes all these different elements like Shakespeare and then makes it current, add to it something that is really fresh and young and edgy," he explains. "There's something very inspiring about it and very universal. And for me, that's what's important as an artist. It's very exciting for something that does that without trying hard and hopefully that will come across."
Create the world.
Singing on a record and singing onstage are two very different things for Sleiman. "I can sing a song, and I can sound good, if I want to," he explains. "But it's also finding a way to live while you're doing that and then not losing your connection.
"Recording, you are still telling a story but you're not a character," he says. "Your personality has to come through, you as a person, as an artist, what you have to say as a singer, in a recording studio. In a musical, you have to be that character. You also have to be in the circumstances you are singing. So it's finding these moments where you know, no matter how intense and dramatic the moments are, to let them try to move forward."