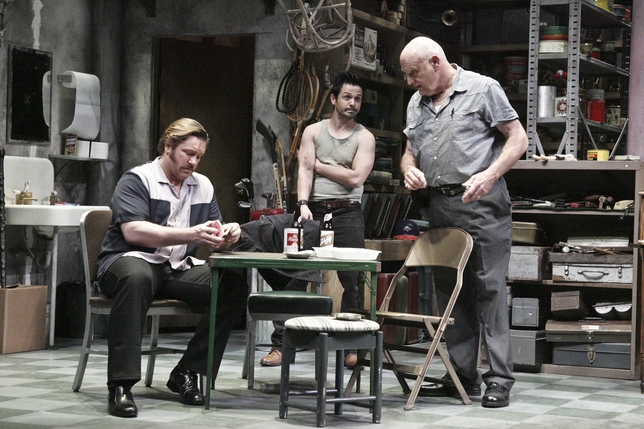 Freddy Rodriguez has focused on film and television for most of his career ("CBGB," "Seal Team Six: The Raid on Osama Bin Laden," "Six Feet Under"), but he's been looking for a stage production for a few years. When he heard about the production of David Mamet's "American Buffalo" at the Geffen Playhouse, he knew it was meant to be.
"The play takes place the year I was born, in the neighborhood I was born in, and [there are] references in the play to Masonic Hospital, the hospital I was born in," says Rodriguez. But that wasn't the only sign for Rodriguez, who grew up in Chicago and attended high school near the Steppenwolf Theatre. Geffen Playhouse casting director Phyllis Schuringa and artistic director Randall Arney are both from Chicago and would often give Rodriguez's drama class tickets to the shows at Steppenwolf. "So it was bound to happen for all of us to work together someday, and it just sort of happened on this," says Rodriguez. The timing was also on his side: the play fit perfectly in the window between his TV and film projects.
Start with a strong foundation
Rodriguez started his career in the theater at age thirteen, so he values the training the theater provides. "I would absolutely recommend for actors to start in the theater because it establishes a foundation in your craft that you can build off of," he says. He views TV and film as an extension of the foundation he built in the theater. "Having that foundation gives you more depth as an actor," he says pointing to the actors he admires and aspires to emulate, like Marlon Brando, Al Pacino, and Robert DeNiro. Rodriguez says if your goal is longevity as an actor, it's important to focus on establishing a solid foundation and not get distracted by trying to be famous. "Get in theater, really work your craft," he says. "Get really, really good so that when people say your name, your name is associated with quality, with integrity." Having spent 20 years making movies, Rodriguez's main goal is to leave a legacy of good work.
Know yourself
Rodriguez was approached about "American Buffalo," but he says he still had to audition like everyone else. Like many actors, Rodriguez views auditioning as a necessary evil, but, he's figured out what he needs to do to be successful. "Personally, I need to learn every word on the page before I go in and audition," he says. "I have not mastered the skill of holding pages in my hand and acting with pages in my hand. I find that every time I have to look at the page it takes me completely out of the scene." With dialogue heavy projects like "American Buffalo" that can be challenging, but Rodriguez says he just hires someone to run lines with him until he's learned it.
Keep your acting muscles in shape
After being away from the theater for 25 years, Rodriguez says it was challenging to work vocal muscles and other acting muscles he hadn't been using for film and television. "There's a particular subtlety that comes with [film and TV] in terms of acting, your voice and so on," says Rodriguez. So "American Buffalo" was about getting back to working those theater muscles. "This play is for actors," he says. "It's a down and dirty acting decathlon. If you ever just want to get down and dirty and tune your acting instrument to the nth degree, this is the play to do."
Be collaborative
"There's a responsibility to doing Mamet and staying true to the page, the words, his vision, but at the same time making it your own," says Rodriguez. Because it's Mamet, one challenge for the cast was to learn the words very precisely. "It's such a tennis match between all of us that if we don't know the words precisely then we can't properly hit the ball back," explains Rodriguez. The collaborative nature of the production has helped with this. Rodriguez credits director Randall Arney for making the process very open and collaborative. "He has an idea of what he wants, but he lets us bring our own ideas to the table and he just wants to see what that's like," he says. "And we merge both ideas to get to establish common ground between all of us."