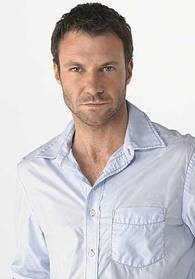 Chris Vance has had a long and varied career in Britain, Australia, and the United States. Since landing a role on "Prison Break" while working in Australia, he has been working steadily on U.S. television, including his recurring role on the TNT drama "Rizzoli & Isles." Vance portrays Col. Casey Jones who is involved in and on-again off-again relationship with Detective Jane Rizzoli (Angie Harmon). With Casey's promotion in the mid-season finale, Jane was left with a choice of watching him return to Afghanistan or taking a romantic leap of faith. Her decision will soon be revealed when the show returns on Feb. 25.
When looking for his next project, Vance knew he wanted something that would offer one of two things—deep character development or action. He found the internationally funded "Transporter: The Series" to be the perfect opportunity and is about to go back into production on Season 2 with new showrunner, Frank Spotnitz. "Transporter: The Series" is set to premiere in the fall on TNT.
Vance chats with Backstage and shares some insights on storytelling and auditioning that he's picked up along the way.
Don't get stuck.
Vance originally studied civil engineering but decided to give up the stability when he realized he wasn't happy. He decided to explore "something that wasn't math and science and was a little bit more emotionally expressive." Although he knew it was a risk, he decided to "take a chance at something I knew nothing about and see if I could learn something about myself." And as the saying goes, with great risk comes great reward. Vance says "it's been the most amazing growth curve ever; it's been really rewarding to me and I'm very glad I did it."
Collaborate to put the story first.
Beginning with theater training and founding his own theater company taught Vance "how essential it is as a performer to be vulnerable and to be humble and to learn always." He also learned a lot about storytelling. "Storytelling means a collaborative process—whether you're doing stage or movies or television—and I have taken that aspect certainly as a security mechanism and something that I really enjoy in television particularly; that it is a huge collaborative effort and it's all the more rewarding when everybody treats it that way. When egos go out of a window and it's all about the story and it's all about the process and it's all about the essential germ of collaboration, that's when things get really exciting and really good."
Understand all the pieces.
Some of Vance's best career advice came while he was working construction. "It wasn't anything to do with writing or acting or directing or anything: 'Everyone has a story. You just have to listen.' " While working as a civil engineer, he also learned another tip he's applied to his acting process—understanding all components of a process is a valuable tool that provides perspective and enhances your abilities. "I think the right way of doing things is to experience every aspect of that process. That starts with a blank page and ends up with something in the cinema, or on the screen in people's living rooms. I think by knowing a little bit more about each area of storytelling, you have an appreciation for what the people around you are doing and what they're bringing."
Be comfortable.
"My best advice is to try as best you can to not go to anything that you're not ready for. If you're not comfortable with the material and your take on the material, it can get hard and you don't want it to be hard. You want it to be fun." Vance noted that though he generally hates auditions, he finds it's easier when he's comfortable with the character. "It's a different ball game and I'm a little bit more at ease. When I don't know a lot about the project and its preliminary sort of stages, I'm the same as a lot of artists in the world, and have my confidence issues." Standing in a room of six or seven people who are paying attention to every detail of every move you make can be intimidating. But, Vance says, "It's part of the game and you get used to it and when I'm comfortable with the character and I have something to express it starts to become fun."