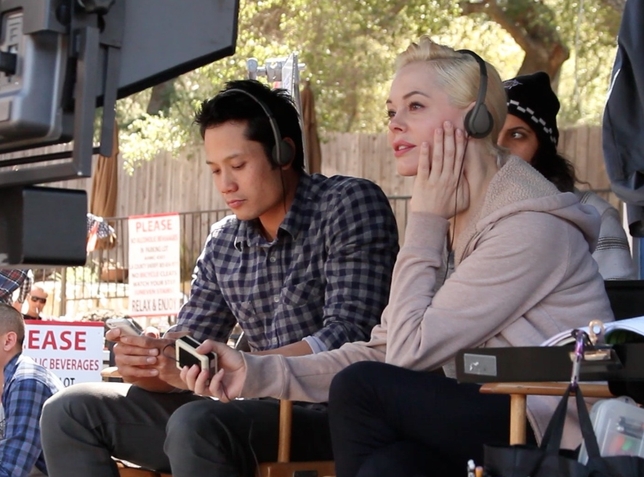 When the time came for Rose McGowan to direct her first project…she lost the rights to the script. In a scramble, two friends—M.A. Fortin and Joshua John Miller—wrote a short for her, which was made into "Dawn," about a sheltered teen looking to break out of her little bubble. Now after a lot of hard work, the film will be screened at this year's Sundance Film Festival.
"I told them the ending scene I wanted and the last line I wanted, and they ran with it and delivered a beautiful script," McGowan says. And that they did. "Dawn" is a particularly haunting short film wherein a happy, perfect world turns dark, and leaves the audience wanting more.
McGowan starred on "Charmed" for many years, and in the Quentin Tarantino "Grindhouse" films, "Death Proof," and "Planet Terror," but with "Dawn," she's finally made her directorial debut. Her vision for herself as a director is modeled after the work of David O. Russell, David Fincher, and the great Billy Wilder.
The established star discusses her passion for film, and what she's learned from directing.
There's nothing like working on your own vision.
McGowan didn't always want to direct, but she's always known that she has many stories to tell. "It's cool to be part of somebody else's vision but for me, it was just a really motivating factor—I have a strong voice and I would really like to create my own world and I'm just kind of tired of being in somebody else's," she says. In regards to what part was most enjoyable about her directoral debut, McGowan says, "the freedom to finally speak for myself."
Attention to detail pays off.
Because "Dawn" takes place in the past (assumedly the 1950s), McGowan knew that it needed actors who didn't have modern faces. "I wanted people that would be more period correct and specific. I have a pet peeve when I see very modern looking actors in period pieces," she says. "I worked really hard to find actors that, not only were really, really good actors, but that also looked like they could be in any time."
You can learn from your actors.
"Dawn" stars some younger, lesser known actors who might lack in fame but not in talent. Tara Lynne Barr stars as the mesmerizing and delightful lead, Dawn, and Reiley McClendon as Charlie, the character you want so badly to not take the dark turn that he does.
McGowan says that Barr brought things to the role that she herself would not have thought to bring. "I think I've often really taken for granted what I do on the acting side of it, and I hope that I've done that for somebody else—just elevated it or brought little things to a part that they hadn't thought of originally," she says. "It's just magical watching actors create that stuff, and so it was really cool to be on the other side and watch these actors play their own symphony."
If you want to do something, just do it.
Yes, like the Nike ad, as McGowan playfully points out. The actor/director says if you want to direct, you just need to go do it. "There's no reason why your voice isn't as important or doesn't deserve to be heard as much as the director who's directing you. The only difference is that that person just got up and did it," she says. "It's important to encourage people, especially women, to do it and be the captain of their own ships, and to know it's OK to own your own power."
This won't be the last we see of McGowan as a director, who admits to having never seen a short film until about two months ago. She says that to her, "Dawn," running at 17 minutes, wasn't so much a short as it was a "really cut to the bone, proper film." The star says she has a feature she would really like to do, and if it'll be anything like "Dawn," then it's certainly something to look forward to.
Rebecca Strassberg is the digital editor of Backstage. Follow her on Twitter @strassbooger.