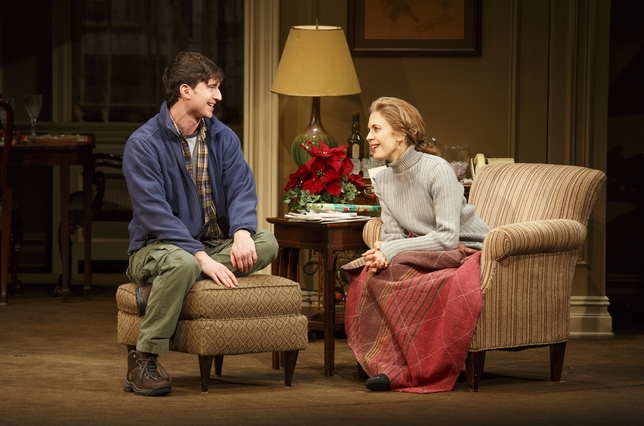 Jake Silbermann's two roles in Richard Greenberg's "The Assembled Parties," the play in which he's making his Broadway debut, are bringing back memories of his upbringing on the Upper West Side. In the first act, which takes place in 1980, he plays Scotty, a recent college graduate home for the holidays at his family's apartment on Central Park West. In the second act, which jumps forward 20 years in time, he plays Timmy, a young man who is a little bit lost and dealing with his family's history. "Although these characters are from the Upper West Side, I think they're universally recognizable," he says. "I feel like there's one in every family, both of them. They fulfill these archetypes—the one with much promise, the one who doesn't seem like he has a lot of promise, and how families deal with that."
When Silbermann was younger, he wanted to illustrate comic books, but was drawn to acting when he saw an older family friend in a play. He continues to be inspired by shows that tell stories in ways he hadn't thought possible, such as Martin McDonagh's "The Pillowman," Annie Baker's "The Flick," and Samuel Brett Williams's "The Revival." In fact, he was so inspired by "The Revival" that recently launched a Kickstarter campaign to produce the film, a project he has been working on for three years.
We chatted with Silbermann about making his Broadway debut alongside the likes of Judith Light, Jessica Hecht, and Jeremy Shamos.
Don't Settle on First Impressions
Silbermann says that it is not always easy for him to read a script and understand the story that's being told, so he tries to look at it from several different angles before auditioning. "Don't settle on any of your first impressions of a character or a scene. Really try to look at it from all angles," he says. "Try to look at the scene first from the perspective of the director, not as the character. Allow that to happen much later. Simply understanding what the scene is about can really influence your performance." After Silbermann's first audition for "The Assembled Parties," he told his agent that he thought he approached one of the two roles incorrectly and wanted to go back and do it a little differently, but his agent said that they loved what he was doing and wanted him to keep doing it.
Write
In addition to acting and producing, Silbermann has also written a short film called "Stuffer." But even for actors who don't want to pursue writing, he thinks that it is a useful exercise, especially before the audition process. "It doesn't matter if you do anything with it, but it does give you a nice way to look at a scene again," he says. "Because we sometimes try to say that the writer is trying to say this or tell this perspective and until you do that yourself, it's a little difficult sometimes."
Any Acting Job Is Good Preparation
Silbermann got his start on the soap opera "As The World Turns." Any acting experience prepares you to continue acting, he says. "The thing about soap opera acting is unfortunately in my experience there wasn't a lot of rehearsal time," he says, but it has allowed him to appreciate the more investigative rehearsal process in the theater. "I was trained more in theater than anything else, so for me having gone the daytime TV route, initially that was more surprising for me," he says. "I was very happy to get back to my roots in a way. I love TV and film and want to do more, but I really am glad to have this experience." He says he couldn't have asked for a better Broadway debut, especially in terms of everybody involved with the show. "I really am proud of the play," he says. "I think it touches people and it's always nice when family and friends come and genuinely say to you that they loved the show."
Learn From Fellow Actors
"I had been feeling self-conscious during the rehearsal process. There was something about the character that didn't click for me initially, and when it did I went with it and Judith came up to me and she said, 'You're my inspiration,'" Silbermann says. She was referring to the way he took notes and wasn't afraid to try new things. "I had been trying to make sense of it and I said, 'No, just go with it,' so to hear her say that was reaffirming to me." Silbermann has also learned a lot from Jeremy Shamos, who he shares many scenes with. "He doesn't waste anything onstage," he says. "He doesn't feel the need to fill voids. He allows himself to use every word that he's given and every thought that he's given. I always think that one of the keys to an exceptional actor is when you know what they're thinking." In the first scene, Shamos's and Silbermann's character are friends of the same age and in the second act Shamos is playing more of a mentor figure, but Silbermann says the preparation wasn't very different for each act. He says, "Every scene has its own set of stakes." Working with these actors, who he says have all been supportive, has taught him that everyone's performances and the direction have to be in sync to tell the same story. "It sounds like a 101 lesson to learn," he says. "I'm glad that I learned it at this point."