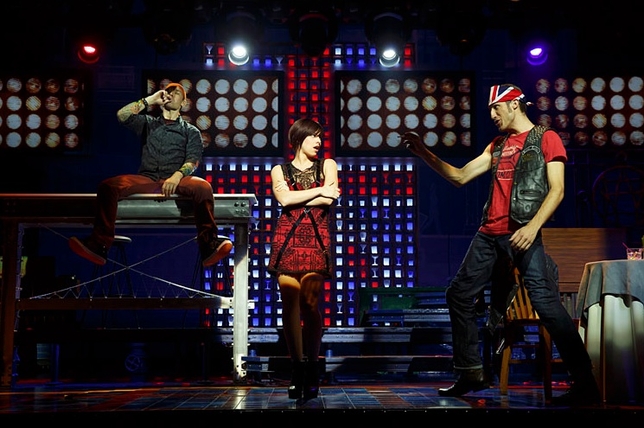 Bryce Ryness is currently on Broadway in the new musical "First Date," but that job almost didn't happen. He auditioned for "First Date" while in rehearsals for an Off-Broadway production of "Around the World in 80 Days," in which he starred as Phileas Fogg. "As an actor, one of my policies is never count my chickens before they're hatched. I'll always go in and audition for something and then let the chips fall where they may," Ryness says. He ended up getting a callback for "First Date," but turned it down because he didn't want to open "Around the World" and then have to leave the show. But the part in "First Date" opened up again, and the creative team came back to Ryness, promising to work around his performance schedule for rehearsals. "That was all I needed to hear. I went back in and I got the job and I did double duty for about three weeks and that was enough time for 'Around the World' to find a replacement," he says.
Ryness plays several characters in "First Date," which takes place on a blind date between Aaron (Zachary Levi) and Casey (Krysta Rodriguez), but his main role is Gabe, Aaron's best friend, who Ryness describes as "somewhat of a player." We spoke to Ryness about auditions, pre-show rituals, and balancing family and career.
Be prepared.
Ryness says that the best advice when it comes to auditions is to be prepared. "You have to know what you're doing to successfully execute a particular scene and that just comes down to preparation. If you know what your objectives are, if you know the words that you're supposed to say, then you can truly listen and react to what your scene partner is giving you," he says. "But if you just think, 'Oh I did a cursory read of the script, but I'm busy and I've got stuff going on, so I can't really look over the script, I'll just read it off the page when I go into the room,' you're just setting yourself up for failure by not preparing yourself for the audition. Our job as actors is to be prepared and to be good actors and one way you can be a good actor is by knowing what you're supposed to say and doing all the theater 101 homework."
Don't be superstitious.
Ryness says that he doesn't do any pre-show rituals because the more that he works in theater professionally, the more he realizes that superstitions are not necessarily helpful. "If anything, they kind of put you in a bad headspace. For instance, if you're running late and you're not able to do whatever ritual or superstition it is," he says. He adds that for him personally, over-intellectualizing and overanalyzing prevents him from doing his best work. "I end up watching myself do the performance as opposed to just being present and being engaged in the other person onstage and also engaged with the audience and feeling their rhythms," he says.
Know how you learn.
"First Date" has a book by Austin Winsberg and music and lyrics by Alan Zachary and Michael Weiner. Ryness says that it's been wonderful to be in a new production in which the writers put the story above their ego, even if that means getting rid of a joke they like because it didn't get a laugh or doesn't forward the story. "What that also means is that we've had a lot of changes come at us because everyone on the creative team is trying to craft the best musical that they possibly can," Ryness says. The best way to deal with getting changes the day of a performance, he says, is to know how you learn and then employ those techniques and strategies in your preparation. Ryness is an auditory learner and will say a line out loud 12 times or 30 times or however many it takes so that he can hear what it sounds like and remember it. Others, he says, are visual learners, who need to read the line multiple times. "Knowing what kind of a learner you are will really help you to remember lines and to recall them at a moment's notice. And that's really all it is getting a line four hours before a performance, you just have to memorize it. You have to do whatever it takes to memorize that line," he says. "Some people have to attach an emotion to that line or for some people it's, 'I have to dig down deep to what is the objective of this line what am I trying to get from the other person' and then say the line in that spirit," he says. "There's no secret. You just have to dirty work. Do the hard tedious dirty work of doing it five times. Doing it 10 times. Doing it 20 times. Doing it 30 times. Doing it 40 times. And then trusting that the work that you did offstage will pay off onstage."
Keep your family intact.
Ryness and his wife Meredith have two children. He says there isn't a secret to being a working actor with kids other than keeping your family intact at any cost. "If that means taking a terrible job that pays $3 a day but it's here in New York as opposed to a national tour and they want me to play the lead, but I'm not going to see you sweetheart for five months. That's just a recipe for disaster. So, the secret to staying together is stay together and then worry about your career," he says.