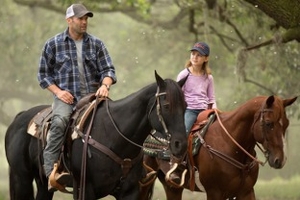 "Homefront," about a former Interpol agent lying low in rural Louisiana with his 10-year-old daughter before an altercation between his daughter and a classmate builds into a Southern gothic nightmare on a bayou, has a pedigreed cast that belies its pulpy premise. The stalwart Jason Statham stars as the gruff dad, but he goes up against a band of misfits that includes James Franco's villain Gator; Gator's meth-addled sister, played by Kate Bosworth; Gator's girlfriend, Sheryl (Winona Ryder); plus a gallery of Southern good ol' boys and well-meaning neighbors. Director Gary Fleder ("Runaway Jury"; "Things To Do in Denver When You're Dead") tells us how he and casting directors Barbara Fiorentino and Lisa Mae Fincannon to make the most authentic film he could.
Use local talent.
Fleder had previously filmed "Runaway Jury" in New Orleans, and two of the local actors he cast left an impact. "Marcus Hester and Stuart Greer both had pretty big scenes in the courtroom," Fleder says. "And both were so fantastic that when I came down I said to Lisa, 'I love those guys. Can we find them something to do?" Both men ended up being cast; Hester as the pivotal role of Gator's brother-in-law. "We were looking at actors out of L.A. but Marcus went on tape and was fantastic," Fleder says. "When you do a movie that's very regional, I think people who don't live there put on the accent and it just feels wrong. So I love to populate the movie with guys who live down there and understand the vernacular and the rhythms."
Keep up with current films.
While watching the Michael Shannon movie "The Iceman," Fleder was struck by Winona Ryder. "She looked great and seemed to have all the chops, all the layers I'd remembered," he says. The two met for lunch to discuss the role of Gator's sister (which ultimately went to Kate Bosworth) before landing on having her play ex-biker chick Sheryl, whose attempts at doing the right thing go disastrously wrong.
Trust your instincts.
"Homefront" wouldn't succeed without the bond between Jason Statham and Izabela Vidovic as father and daughter. "When I first came on the project, I said, 'If we don't find the perfect girl that you love and you believe, if we don't get that right, the whole movie will collapse,'" Fleder says. And during the nationwide search that ensued, on the first day of auditioning out of L.A., Vidovic walked in. "She taped with Barbara and I watched it that night and thought, Wow, this one girl is really amazing. This is going to be an easy process, because we already found one amazing girl in the first session!" he says with a laugh. After three or four more months of searching in vain, the role was Vidovic's.
Think outside the box.
James Franco might not be the first actor one would associate with a meth dealer named Gator, but he delivers a spell-binding, genuinely scary performance. And in the original script, the character was a far cry from Franco. "As written, he was more of an alpha male kinda guy," Fleder says. "And I thought, What if we got an actor like Franco, who's so wily and eccentric? Can that be just as daunting and threatening? The second he came on set in wardrobe and scruff, he scared me. And there's something really joyful about his performance; he just enjoys acting. You see a guy who's willing to really play in different genres, and do it pretty fearlessly."