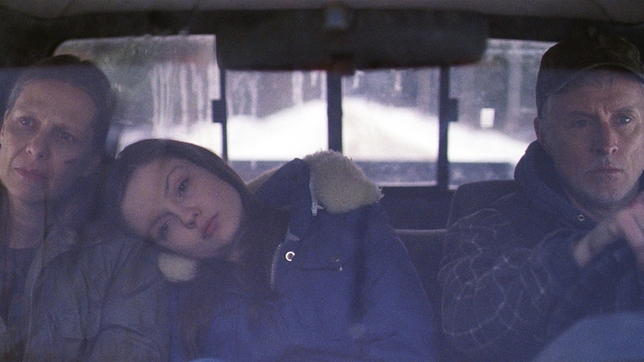 Amid the quiet despair the runs throughout Lance Edmands' "Bluebird"—part of Tribeca Film festival's world narrative competition—Emily Meade's teenaged Paula is a haven of practicality. A 17-year-old who isn't rebelling, who isn't full of rage and hormones, Paula is one of the few adult characters in this tiny, character-driven indie starring Amy Morton and John Slattery as Paula's parents, grappling with the potentially devastating after effects of Morton's school bus driver leaving a child alone on a bus overnight. We spoke to Meade about her detached character and playing yet another teenager.
The best parts conquer your career plans.
The 24-year-old Meade was done playing teenagers—until she read Edmands' script. "I felt myself aging as a human," she says, "and hungry to play someone my age and going through some of the experiences I've gone through. And it's one thing to be 19, 20, and you're reliving [your teenage years] but to keep on living that gets a little bit boring and frustrating." She admits that at first glance, Paula didn't have her "jumping for joy," but she realized that there was enough depth to her to make the role worthwhile.
Look for a story that hasn't been told.
One of the most refreshing aspects of "Bluebird" is how different Paula is from the typical movie high schooler. "In general they're pretty angsty and rebellious, and I found it almost eerie about this character that she wasn't angry and wasn't rebelling," Meade says. "She detached from her mother at a really young age and is almost numb and detached. To me, she was the personification of a feeling and an emotion people always have rather than a teenager going through that. She doesn't know what you're supposed to even feel, necessarily. That is a really specific thing that I hadn't seen before."
Don't hold on to naïve ideas about the business.
Meade admits that when she was eight years old, her career plans involved going to the Oscars as something of an outsider, who didn't know anyone and wasn't part of the industry. Obviously, the six years she's spent in the business have hanged her view somewhat. "You actually start doing it and you realize how little control you have and how very harsh and ugly it can be," she says. "And there are realities like making money to eat food. You're choosing a life where a lot of other people get to make decisions. So that's been incredibly heart-wrenching, but also, acquires that much more strength in knowing what it is you want."
Embrace your goals.
The best way to navigate the acting business, Meade says, is to cling to what your goals. "It's a really difficult middle ground to find, the willingness to find your goals and knowing who you are and what you want to do," she says. "I have been considerably picky for somebody who's not a movie star, and sometimes I get frustrated. Sometimes I get really down on myself for not having the exact career I want, but it's OK as long as you know what you want and you're going towards that. Accept it's going to be a different path than you thought in the first place."