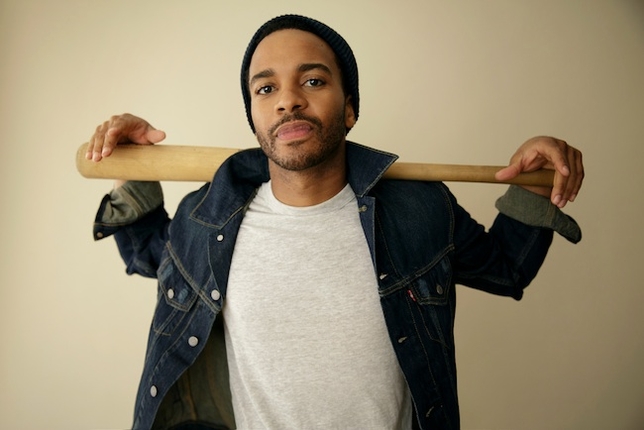 Andre Holland shot scenes from "42" just 10 minutes away from where he grew up. In fact, the Birmingham native once played high school baseball on the field that doubled for one in the film about the legendary ballplayer Jackie Robinson.
"It's not every day you get to be in a movie about Jackie Robinson, so you want to do it as right as you can," says Holland, who plays reporter Wendell Smith in the film. "I wanted to honor this man's legacy and not just go out there and do the part, but do the part in a respectful way and in as authentic a way as possible."
For Holland, who is known for his prolific New York stage career including "Joe Turner's Come and Gone" on Broadway, "42" marks a big moment. We chatted with the actor about how he landed the part, making the film, and what he learned along the way.
Take Initiative.
Holland heard about "42" because he was reading with a friend who was auditioning for Jackie. Holland called his agent, hoping to land an audition for the starring role as well, but instead submitted a tape to play Smith. When Holland didn't hear back right away, he flew himself out to Los Angeles and managed to get a meeting with writer-director Brian Helgeland. "We really hit it off," Holland says. "He gave me some adjustments on the scene…and a couple weeks later they called me and told me it was mine."
Be a Team Player.
Smith's story inspired Holland in both his professional and personal life. Growing up in the South, Holland knew a bit about the Jackie Robinson story, but learning more about the movement and Smith's involvement changed him. "I was really moved by how much sacrifice it took," he says of the process for Robinson to gain entry into the major leagues. "Without everybody saying this is a worthy cause, it wouldn't have happened. Wendell—in his articles—he speaks directly to the African-American fans often, and he says, 'Listen, if this is going to be a success, you guys have a part to play. For example, when you come to the ball field, dress appropriately. Don't get too intoxicated and embarrass yourself. Don't just scream and shout for Jackie; support the whole team.' Wendell really understood what the significance of this moment was and what needed to happen in order for it to be a success."
Respect Your Castmates
Holland took that lesson from the story to his relationship with Chadwick Bosseman, who plays Robinson in the film. "Chad and I have known each other peripherally for some time," he says. "But I feel like during the course of this film we got much closer, and I think that our relationship kind of started to mirror the relationship of Jackie and Wendell in that they had a mutual respect for each other. They weren't necessarily the best of friends, but circumstances put them together. They definitely had a lot of respect for what each other did and that respect just grew over the years. I think that will probably be the case with Chad and I."
Be Confident and Trust Yourself.
Holland says that his stage experience—particularly working on Shakespeare and the classics—helped him handle the gravity and significance of this moment in history. "To find myself in a movie with Harrison Ford and playing this character who is so important to history and with it being my first big film, the training and the background that I have in theater gave me the confidence to know that I could do a good job," he says.
Follow Your Passions
Although he feels blessed to be able to work consistently as an actor, Holland says this project has taught him that finding projects and stories he's passionate about makes him a better actor. "I need to find those projects more often, the ones that really, really speak to me," he says. "I do better work in those situations and have a better time."