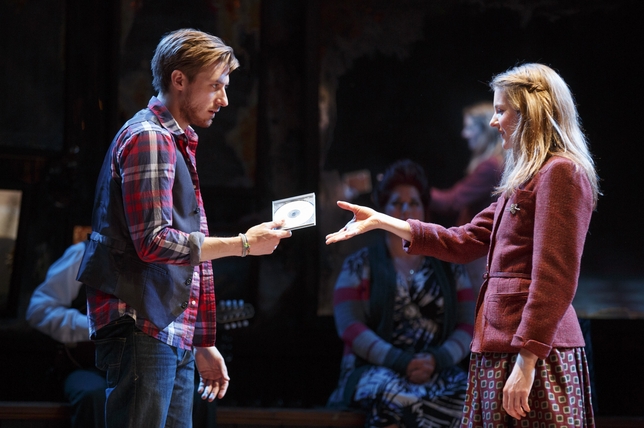 Arthur Darvill has never been in a musical. Neither has Joanna Christie. Christie has never performed on Broadway. Neither has Darvill.
Until now that is. The British stars are taking the New York stage for the first time—singing and dancing and all—as Guy and Girl in the Tony-winning "Once."
"We read it, and we absolutely fell in love with it," says Darvill, who is known for his work on the British series "Doctor Who." "It's really my kind of sound. I'm not a musical theater type of actor, but I've been in bands and stuff and this really spoke to me."
"I haven't gone the musical theater route, but I've always sung and I've always played the piano," adds Christie. "So I feel like it actually is a perfect fit for me."
Relaxing in Christie's dressing room at the Bernard Jacobs Theatre before an evening performance, the pair get along famously, although they've only known each other for a short while. The Jacobs is adjacent to the Majestic Theater, where "The Phantom of the Opera" is playing, and the sounds of operatic singers warming up echo through the walls.
"I'd love to do the 'Phantom' version," Darvill jokes, singing a few notes of "Falling Slowly" as the Phantom with Christie putting on her best Christine impression. "I'd like to do it with a massive cape!"
The lovable duo shares some of their life lessons and what taking on eight shows a week in a musical has taught them as performers.
Be Ready.
Although Christie says the part fits her perfectly, she initially did not want to try out. Her agent called her the day before the audition and asked her to prepare a Mendelssohn song on the piano and two scenes with a Czech accent for the next day. "I said, 'What? In 24 hours? A musical? No,' " Christie recalls of her response. "A) I don't do musicals. B) I have to learn how much for tomorrow? And C) Broadway? Are you kidding?"
Christie and Darvill met for the first time the next morning at the audition and found out they were cast that evening. "I was on my way to the airport," Christie says. From that point, they had about three weeks to prepare to lead a show on Broadway and move across the Atlantic.
Christie, who was about to give up acting two weeks before she was cast, calls the quick change "mental," though both agree they felt taken care of during the transition, which involved rehearsing onstage with the London production of the show.
"It was just this really strange process," Darvill says. "We felt very trusted to bring our own flavor to it, to do our own thing."
Don't Imitate Anyone.
The night before their audition, both Darvill and Christie saw the show for the first time in New York. "I nearly didn't go," remembers Darvill, who also saw it in London later on. "It was very hard to get those performances out of my head."
Stepping into roles that earned the original leads Steve Kazee and Cristin Milioti a Tony win and nomination, respectively, could put a lot pf pressure on any actor. "I'd rather do my own performance than copy someone else's," Darvill says, adding that he saw Ben Hope perform the role because Kazee had injured his voice. "I imagine Steve and Cristin had their own connection with it, and we have our own connection," he adds. "Neither one is better or worse; it's just different, very different."
However, Christie was intimidated initially by Milioti's look and approach to the role. "She was really different to me in how she was playing it," Christie says. However, after seeing Zrinka Cvitešić perform in London, she felt comfortable giving her own take on the character. "At the end of the day, with playing any part, you just have to have the balls to follow your instincts and your gut about how you think the story should be told," she says.
Protect Your Instrument.
Although both actors have a music background, neither one has lived the life of a musical theater actor, and their newfound discipline has led to some significant lifestyle changes.
"We both are really paranoid about being careful with our voices because we haven't got the training to fall back on," explains Christie, who feels fortunate that the songs are in her range and she "can sing these songs totally from my heart."
Darvill, however, used to be a heavy smoker and quit in February, and he has also given up his standard routine as a performer to protect his voice for the show.
"I can't go out; all I talk about is my voice to people," says Darvill, adding that his role has a "really hard singing part." "I completely changed my lifestyle, which is good for me. I'm very used to doing a play, going out, getting hammered, waking up in the afternoon, warming up, getting myself through it…It's made me better as a person because I've had less embarrassing situations in my life."
Find the Inspiration.
Christie says she identifies with her character in a "scary way." Both her mother and her brother are musicians, and even though music hasn't been a professional pursuit for her until now, she connects to the character from a deeply personal level as well. "I feel like I've been through it personally in my twenties that I now can totally tell this story," she says, calling the performance "cathartic."
Darvill also considers himself a writer, like the character; however, he had put away his musical goals for a while.
"I thought I've got nothing to say, really," he says. "I think that's just fear, and this has really taught me that I have a lot to say, always. It's my therapy, and I can't stop doing this.
"Doing this, it's made me a better person," he continues. "There's a brilliant thing in it of not doing things because you're afraid, and I think I do that a lot. I do hold back and I panic and make rash decisions, decisions based on fear, and I think I really relate to that within this character."
Pursue Acting for the Right Reasons.
When asked what advice they have for aspiring actors, both Christie and Darvill are hesitant to dispense any, saying they don't feel qualified to offer wisdom.
"I'm always tempted to say, 'Don't do it,' " Christie finally says. "It's so difficult. But I know that when I was young, nobody and nothing could tell me not to do it. So I know there's no point in saying don't bother doing it because if you've got that ambition…"
"Only do it if it's really a passion," Darvill continues for her. "Don't do it if you want to be famous."
"Do it because you love telling stories, and that is the way that you communicate with what you think about life and humanity," Christie adds.
"Don't give up," Darvill says. "And just know that it is hard, and it's going to be hard, and if you want it, keep going."