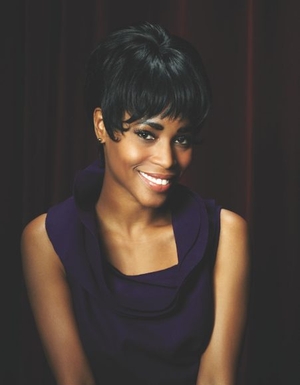 Valisia LeKae screamed when she found out she'd be playing Diana Ross in "Motown: The Musical" on Broadway.
"I was on the corner of the 55th and Eighth Avenue," she remembers, "and I just was shouting because it's music that I grew up with. It's like the soundtrack of my life."
"Motown," which is currently in previews and officially opens April 14, marks LeKae's fifth Broadway show, but it's her first in a starring role. LeKae originally moved to New York to pursue a recording career and "fell" into musical theater, and that was it for her.
"It's really amazing to just be like you've really worked toward something and to allow your parents to see that it's a real thing," she says. "We are professional. We work very hard and to see that everything has come to fruition is pretty amazing, especially after working on it so long. A lot of shows don't make it to Broadway."
We chatted with LeKae for this week's cover story, and she shares some of her best acting advice.
Never Look Back
LeKae grew up in Memphis and attended the University of Tennessee in Knoxville. But she always dreamed of moving to New York. "The moment that I graduated, I bedazzled NYC on top of my cap, and I was like, 'I am never'—nothing to Knoxville, Tennessee—but I was like, 'I am going there,' " she says. "Then I came to New York and was in the USO troupe and we did that Andrews Sisters things for a year and then I fell into theater. And that was it for me."
Every Audition Counts
LeKae's first musical theater audition was for Charles Randolph-Wright, the director of "Motown." She went to the call because her friend couldn't make it, and while she didn't land that part, that meeting became her entry into the theater community. "I was not into theater at all; I didn't know anything about it," she says. "[Wright] made the phone call to Richard [Maltby]. That workshop that we did was sort of my introduction to theater, and the number of people that were in it—Anika Noni Rose, Cass Morgan—you couldn't get a better education than that. That's how I got my Equity card and so I've been working since then."
Be Yourself
Playing Diana Ross could be an intimidating feat, but LeKae has found her character in versions of herself. "Because so many people have such an idea of who she is and everybody thinks they know about [Barry and Diana's] story…I really wanted to find out who I was so that when I did my research on her, I could find our similarities," she explains. "She grew up singing in the church and so do did I. She wanted to be a dancer and so did I, but I didn't take any dance or anything growing up. And just doing whatever we could to perform—she also did that. And she got into it because of her love of singing, not necessarily to make money. She just wanted to sing and entertain… I really wanted to make her human. I wanted to make her accessible to people. This woman is like you and me. And I wanted people to see the same emotions that she may go through are emotions that you can actually tap into yourself."
Do Your Research
Just because LeKae identifies with Ross doesn't mean she didn't do exhaustive research to prepare for the role. "I wanted to first amass my knowledge: books, magazines, her book, Barry's book, video tapes, whatever I could find," LeKae says of her process. "Calling my mom and saying, 'Do you have any old magazines from the '70s and '60s?' A lot of times we react a certain way fear based, and she was growing up at a time in the '60s where it wasn't so easy for African Americans. A lot of those things we take for granted, the liberties that we have. I wanted people to see her journey. She starts very young—she goes from 15 to 39—so you get to watch her grow up and become this mega superstar."
Take Risks
LeKae has been involved with "Motown" since the first workshops, and she relished that time to really experiment. "The great thing about the rehearsal process—and my director's very good about saying this stuff, he's like, 'Try anything. Try everything. Good or bad, make a choice,' " she says. "Because that rehearsal process is sacred ground. You get to do a lot of things that you won't necessarily get to do onstage. With Barry, something he's always said is basically, 'Be you.' You can only be yourself. You can't try to imitate anyone else; you got to do what you do best and knowing what you have and your capabilities allows you to grow because you start from there. You can't go into the room not being you and expect something to be honest. I always think about being the best person I can be. Be my best self and just expand from there, and don't be afraid to try anything and everything."