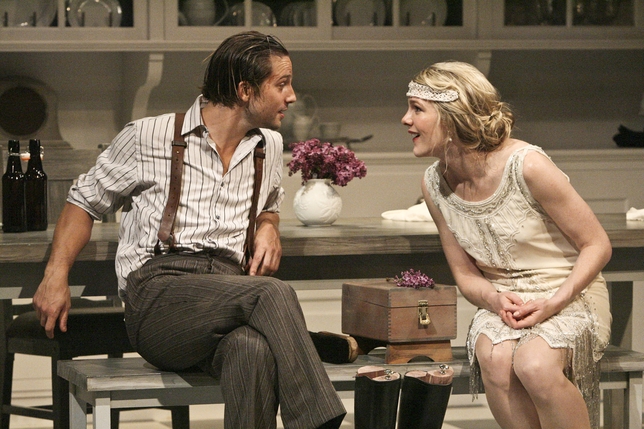 "When I was told that I was being offered a role in 'Miss Julie,' I already knew I wanted to do it," says Logan Marshall-Green, who is playing John in Neil LaBute's adaptation of the August Strindberg play at the Geffen Playhouse. Marshall-Green had always wanted to play John, so that combined with the creative team and the opportunity to work in the theater made the decision a no-brainer.
LaBute's update is set in 20th century Long Island just months before the stock market crash. "[It] brings a whole new twist and commentary to the war of class that's innate in 'Miss Julie' no matter where you put it," says Marshall-Green.
Marshall-Green trained in the theater and grew up on plays like "Miss Julie" since both his parents were involved in the theater. "My intention of making acting a career was about being onstage," says Marshall-Green, but he actually began his professional career with television and film. Despite his success with film, Marshall-Green says he always makes time for theater and still has some dream roles he'd like to play.
Read everything.
To have dream roles, you have to know what's out there. "Read all the great plays," he says. "Find out who's out there. What are those guys or gals that are out there? And, of course, when you fall in love with them go after them." Reading plays can also help with film and TV, since "so many of those characters are actually archetypes for film and TV anyway," he says.
Make the character your own.
Marshall-Green had seen "Miss Julie" done before, and while he loved the role of John, he felt that he was too Machiavellian. The way that John was written and portrayed made it hard to root for him, but Marshall-Green says he always wanted to root for him. "I just knew there was another way to play John, and I'd always wanted to play him because I'd always wanted to make people root for him," he says. "It's a great tour de force role. I truly believe that it's one of the best roles for a man that's ever been written." While every actor has a different interpretation, and performances vary even night to night with the same actor, Marshall-Green says, "When it comes to John, I just knew my take and I've gone with my gut and I knew that people who were involved in the project felt the same way about John."
Work together.
Another important part of creating a character for Marshall-Green is working with his castmates. While his preparation is different for every character, Marshall-Green says, "I use myself first and then I decide whether I'm going to need to put on or take off, so to speak. To reveal the character or to embellish myself with some character." Luckily, Marshall-Green says he and Lily Rabe worked very similarly. "We take what's given and we work with our own instrument and we work with the truth first," he says.
Be adaptable.
Marshall-Green says in the short rehearsal process, there have been many changes in order to find the piece. "[Jo Bonney is] really not just collaborative, but malleable in the moment, and we blocked this thing just so we could have a structure to find our way through it emotionally, but I think in the doing of it, as we've gone through it the second and third time around, we've found very quickly that our physical structure is at times not helping the emotional vein, so the blocking is probably entirely different." That flexibility is part of what makes live theater fun and exciting for Marshall-Green. "I can tell you now we will continue to find this play night by night; we're going to be exploring it in front of people," he says. "And I think that's what makes great theater great."
Know the rules and stay vital.
"I never got in this to make money, and I never got in this to find fame," he says. "I got in this to find a way to stay in this so that I could play King Lear later on in my life." He knows acting is a tough business and a lot could happen - he may never play King Lear - but he's focused on following his heart. "I don't need to be liked, but I need to be vital - on set or on stage - and I think that probably would be my advice: Stay vital," he says. How does he do that? "It's about saying 'no' and asking the tough questions and believing in yourself when no one else will, but you have to know the rules to break them," he says, "Being vital means knowing the rules and being brave enough to break them."