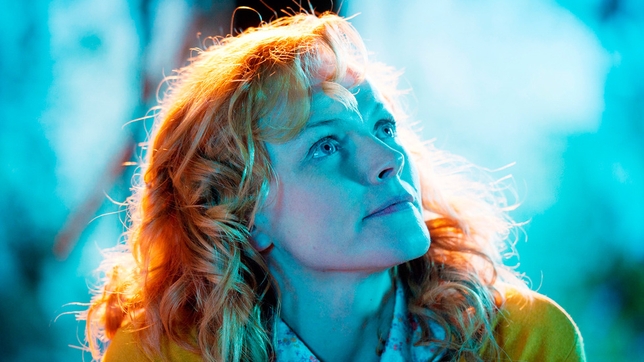 One of the warmest, most touching performances of the Tribeca Film Festival came courtesy of Maxine Peake in Steph Green's "Run & Jump." A mother of two, Peake's Vanetia is struggling to keep her family together when her husband returns home from the hospital after a serious stroke. His recovery is being documented by visiting American Ted (Will Forte, proving he's much more than MacGruber), and it's not long before Vanetia and Ted find themselves attracted to one another. The script can sometimes feel like an indie painted by numbers, but the performances never do. We spoke to Peake about auditioning, the hard core of certainty being an actor requires, and the importance of keeping your back stories realistic.
Always meet with the director.
Even when a role comes in as an offer, Peake prefers to meet with the director before accepting. "A lot of people go, 'I'm not auditioning!' " she says. "But even if I'm offered the job, I'll say I want to meet the director. You might sit in the room and go, 'I really can't work with you.' And when you don't audition, sometimes it's harder when you start on that first day. There's something about that process where you go in the room and do the work with the director. I always sit with the director to find out his vision."
Be aware of your bag of tricks.
As a woman struggling to live with the shell of the man she loves, Vanetia could easily become a tortured martyr—and that was Peake's first instinct. "Initially I did the typical actor thing when you sort of turn to old tricks. And there's lots of me crying. And she said, 'What are you doing? Rein it in!' And I've made a career of crying my way through things. So I was a bit like, 'What do you mean you don't want me crying?' There's a formula actors fall into where if we're crying, we think it's good acting."
Don't get too fancy with your back stories.
Peake prefers the physical presence of her research, filling notebooks with back story and character notes. But she admits to occasionally veering too far into the realm of sensationalism. "They can get of tragic, and they get into novel territory," she says. " 'And then he died, and then she got bit by a shark.' And there's a point where I have to make this a bit normal. Your imagination just slightly runs away with you. And you back up and say, 'Wow! There's a life.' "
Know who you are.
After being told that she wouldn't come into her own as an actor, Peake made peace with playing the waiting game. And then she began snagging roles in her age range. "Just stick at it. I do all right, I make a living at what I do, but it wasn't always like that. I did it all. Dressing up as frogs for chemical companies. It took me a bit to come into my own skin. I remember my first audition at drama school was to play Irina in 'Three Sisters.' And I thought, Oh, I don't play my own age. Surely I should be getting in a headscarf and doing that?
Don't drink before an audition—odds are it won't go well.
Peake, who is not a singer or a dancer, went in for a role that required both in Stephen Frears' "Mrs. Henderson Present." "My then-boyfriend said, 'Come on, we'll just go and have a little vodka orange to take the edge off.' Well, four vodka orange later I rocked in. And you could see the kind of horror on the dance instructor's face as I went at it. I think they were speechless."