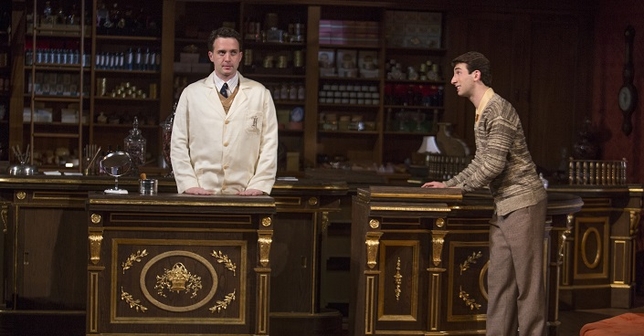 Jacob Kemp gives a stand-out performance as Arpad in "Parfumerie,"the inaugural production at the new Wallis Annenberg Center for the Performing Arts. Kemp holds his own among the cast of strong actors including Richard Schiff, Arye Gross, Eddie Kaye Thomas, and Deborah Ann Woll. "Being the baby of the cast—it's been such a lesson. Every time I walked into rehearsal, I left with a new knowledge of how to find variation in something that I might have been stuck in," says Kemp.
Kemp is no stranger to theater; after seeing his first play at age three, he was hooked. From acting in his kitchen to acting on the professional stage, Kemp dove right in and hasn't looked back. Having worked as a child actor from age 11-18, he decided that a traditional college education was important to him and attended Yale. "I completely doubled the course requirements for a degree in theater arts so I think I may have been their first double major in theater and theater," Kemp says, but what he found more valuable than the artistic training was how Yale changed his perspective. "Yale taught me how to become a citizen of the world and it really taught me how to think and how to engage myself as an artist who wants to use his work to change the world…to build bridges and to create dialogue."
"I'm so glad I devoted the time to discover who I am both on and off the stage," says Kemp of his time at Yale. His studies also gave him the opportunity to learn from his peers, a skill that he is still utilizing. "I was learning from peers with so many varying interests and backgrounds, and I learned so much from those incredibly talented people." Kemp offers some tips on collaboration and shares his experiences in "Parfumerie."
Always give your best.
Kemp didn't have to audition in person for "Parfumerie." Although he notes that it's nice to have the ability to talk with the creative team and get feedback, being able to put himself on tape gave him the opportunity to really give his best performance. "When I'm creating a tape, my goal is to not only share my point of view or my idea for the character with the team, but also to provide a few options for the tape. Sometimes I'll give them two or three takes in a couple different directions."
Find the balance.
"Every project provides its own unique challenges, and every role has its own little idiosyncrasies of both what comes easily and what might be a challenge for me as an actor," says Kemp. With "Parfumerie," the challenge Kemp faced in preparing for the role was making sure to strike the right balance between comedy and pathos. He credits "Parfumerie's" director Mark Brokaw for working with him and being patient as they navigated the balance. "In rehearsal it was just a very, very keen eye toward scene changes and when to share focus and when to be able to really play on the line and to be able to go for the comedy as opposed to going for the reality of the scene." Having admired Brokaw's work since he was young, Kemp says "the chance to work with him this early in my career was a real treat."
Trust the ensemble.
Trusting his cast members also helped Kemp to find the balance. "It was an ensemble effort. As long as I listen to my fellow cast members—if I'm really listening to what they're giving me—the scenes more often than not will fall right on. As long as I'm remaining open and vulnerable and standing with conviction [and as long as] I take what's given to me and react authentically, the scene always plays."
Collaborate and build relationships.
Besides gaining valuable experience on the process of acting while training, Kemp also built relationships that continue to help him in his career. "When I found out that I had to move to L.A. in 10 days, the first people that I called were my Stagedoor [Manor] family, and throughout this experience when I'm scared about what's to come or when I'm most unsure about a moment in a scene, I always know that I can rely on my peers from Stagedoor to talk through it, to experiment, to explore, and to collaborate." In addition to being able to act in many productions, Kemp says one of the best things about Stagedoor was that "the minute you walk onto that campus you're treated like a young professional. For many young actors, that's a huge eye-opening experience and it just shows them what that life might be like [as an actor]." He also loved the collaborative energy which has served him well in his career. "The program brings together so many ferociously talented young people from all over the globe to collaborate and explore for nine weeks each summer and at such a formative time when a young actor is just starting to form his or her own artistic point of view. I learned so much about process there, about discipline and verve and not giving up, and about the incredible power of an ensemble working and breathing together to tell a story."
"Never, never, never give up."
An acting career is unpredictable, so it's important to stay positive. "As a young actor, so many of our experiences are when we hear 'no' and the key is to use that as fuel for the fire to just help you keep going." One day the "no" will be a "yes." "Just because one person isn't eating your meal that afternoon doesn't mean somebody else isn't going to be ravenous for it tomorrow," says Kemp. In fact, he was initially asked to audition for the role of "Fritz" in "Parfumerie" but after he sent in his tape, he was asked to tape another audition for the role of "Arpad," which he's currently playing. "That role has really been a breakout role…and has opened a lot of doors," Kemp says.