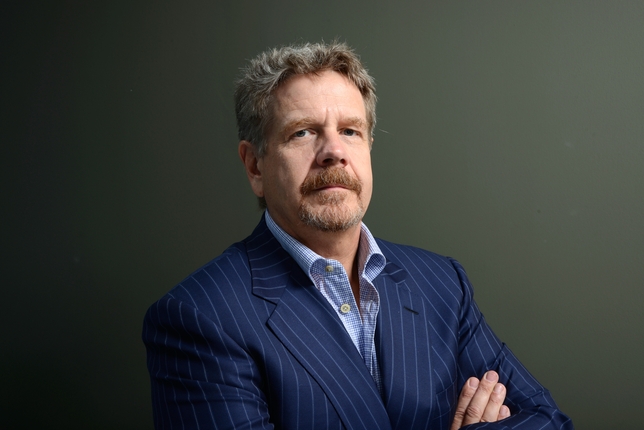 John Wells' resume reads like the greatest hits of television—"ER," "The West Wing," "Shameless"—But Wells actually started his directorial training in the theater.
"I love working with actors, and it's all been based on my being trained in the theater," says Wells. "I was a directing student and a production design student at Carnegie Mellon. I went in as a production design student and became a directing student. And I worked at La MaMa, the old Truck and Warehouse Theater, worked in LORT (League of Resident Theatres), all over the place…I grew up working with ensembles of actors and I love it."
Wells chatted with us about how his theater training helped him build an ensemble dynamic with the cast of "August: Osage County" and what he learned as a director along the way.
Projects come when you least expect them.
Wells saw "August" on Broadway a few times, but he never expected he'd direct the film adaptation. He had a meeting with Harvey Weinstein about something else when Weinstein casually mentioned that he should work with playwright/screenwriter Tracy Letts on "August." "I got back to my office, and I got a call from my agent saying, you're directing 'August: Osage County,'" Wells remembers. "And I said, 'Is there a script?'"
Collaborate.
There wasn't a full script, yet, but Wells worked with Letts on the project for 18 months before the script was finalized. "Work in the theater is all about the words, Tracy's wonderful words," Wells says. "We had long conversations about what are we going to see on the faces up close? We wanted to show the difference between being 50 or 100 feet back in the theater and the nuance you're going to pick up onscreen." Wells also spent a long time speaking with Letts about the personal aspects of the play, and from there, he developed back stories for each of the characters. "We found a lot of historical photos about the history of the place because part of it is—part of what the play's about—is this notion that we had families that stayed close together and particularly plains families. It's really only in the last couple of generations that people left," he says.
Build an ensemble.
These backstories were crucial for Wells to building an ensemble dynamic among the cast. Meryl Streep attached to the project first, and Julia Roberts followed soon after. Wells set out to build a family around these two actors, and during the rehearsal process, he really encouraged the actors to both learn about each other's stories and pick up each other's movements and motions. Wells feels like behaviors can really define a family unit, which is something he took from his own life. "Both of our children are adopted, and my wife and I didn't go out of ways to find kids that looked like us. We were just happy to have some kids," Wells says. "And people tell me all the time that they look like us, and that's because they learn to smile and laugh and move their head a certain way from studying their parents' faces."
Stick to the script.
When you have a Pulitzer-Prize-winning play as a basis for your film, improvisation gets left by the wayside. However, Letts' heightened theatrical language can be difficult to get across naturally onscreen so Wells spent time working on the rhythms of the dialogue with the actors. "There's a very specific way that people speak, and we wanted to be in and around Oklahoma for the shooting so that the cast could actually hear it and understand why this rhythm seems strange in the piece," says Wells. "During the audition process, we had a lot of very interesting accents come into the room. And I would say, 'Why don't you just skip the accent and just do what you want to do with it? Because you're focused on doing the accent rather than the scene.'"
Be spontaneous.
When Wells was shooting the epic funeral dinner scene, he told the actors to just be natural and not worry about continuity. "Don't worry about where your fork is and when the sound's going to your mouth. I'm going to have coverage on 10 different people on this table," Wells says of what he told the cast. "So if you make a mistake on when you pick up the wine glass or something, I can easily cut to somebody else. I don't want you thinking about that. I want you to be in the scene and not worried about the camera." Thanks to the cast's preparedness (Streep was off-book on day one) and minimal takes, shooting the scene took three and a half days, when Wells thought it would take a week. "It was very unusual to do more than two to three takes because I didn't want the scene to be ground into utter boredom by the end," says Wells. "If I had stopped and done the entire scene on every character beginning to end, we would been up to 300 times through the scene or something, which is very difficult over a three day period to remain any spontaneity in what's happening."