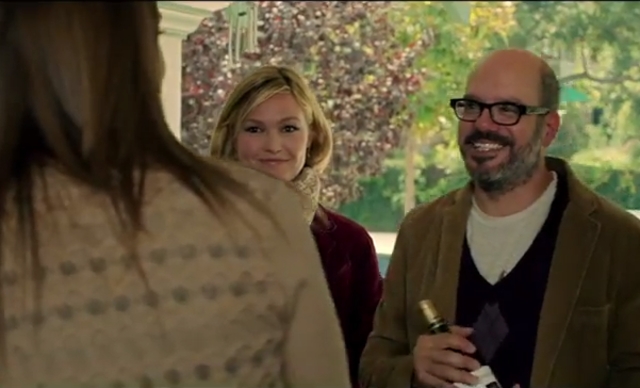 David Cross has managed to steal scenes even when sharing the screen with the best of them. It helps that he often gets cast as over-the-top, deliciously dense characters, such as never-nude Tobias Fünke in "Arrested Development." But in his latest film, "It's a Disaster," he manages to stand out in a cast that includes Julia Stiles and America Ferrara while doing something new—playing the straight man. Cross spoke to us about how he built a career as a scene stealer.
Play against type.
In "It's a Disaster," Cross plays the new boyfriend to Stiles, who takes him to a brunch with her judgmental friends. Things are tense enough, but then a mysterious attack threatens their lives. Cross is actually the most likeable character in the film, a new experience for him. "I was excited about having this rare opportunity to play against type. I don't usually get to play the more grounded straight man in the film, the practical guy," he says. He also plays poet Louis Ginsberg in the upcoming "Kill Your Darlings," another dramatic role. "I love any opportunity to play against type. I actually have another movie I might be doing, I can't talk about it yet, but it's a dramatic part and I'm happy to be getting those chances."
Be willing to change your mind.
Originally, Cross wanted nothing to do with "It's a Disaster" because the film was shooting in Los Angeles. After doing his IFC series "The Increasingly Poor Decisions of Todd Margaret" in London, he was looking forward to just spending some time at home in New York. But Ferrara, who is friends with his wife, Amber Tamblyn after the two appeared in "The Sisterhood of the Traveling Pants," called him and asked him to look at the script. "I said, 'No way, I'm not staying in L.A. for another fucking month.' I just wanted to go home," Cross says. "But she insisted and sent me the script. I read it in one sitting and called her two hours later and said, 'Yeah, I'm in.' Cross says one of the things he loved most about Todd Berger's script was the honesty. "I greatly appreciate honesty in scripts. Especially in comedy, it's so rare," he notes. "In a lot of comedy, you feel like they thought up a line and then structured this sweaty scene around it so they could say this funny thing about frogurt or something. That's not like this at all. And I really, really appreciated that."
Return to the scene of the crime.
After being cancelled by the Fox network in 2006, the critically acclaimed "Arrested Development" will return with new episodes on Netflix in May. So what's different about Cross' oddball Tobias this time around? "About five pounds around the stomach area," he jokes. In seriousness, he says the whole cast picked up where they left off. "It was very cool how we fell right back into it. Getting back on set was so special. I felt privileged and lucky and so appreciative of this opportunity to come back to this great cast and crew and these great scripts. I felt like a kid must feel on Christmas morning." And has Tobias changed much since we last saw him? "I don't know if he's matured, but he certainly has moved on in his life. Keep in mind he's the most tenuously linked person in that family. So he goes outside of that world for a little bit, to varying degrees of success." While he can't reveal much about Tobias' storylines, he does say he loved getting to share scenes with comic Maria Bamford.
Be a team player.
Cross regularly finds himself a member of talented ensembles, from his days on the sketch program "Mr. Show" to roles on "Modern Family" and "Arrested Development." So what's the secret to finding his way into these amazing groups? "I'm a Freemason," he admits. "So all those groups are also Freemasons and we know the secret codes and handshakes. We recognize each other and only work with each other. I know when I did 'Modern Family' there was some question because Sofia Vergara was not a Freemason and there was a bit of angst about that and trying to get her to join. I don't know where that stands now. That's pretty much the secret."
"Don't be an asshole."
Cross says he rarely auditions anymore, and when he does, he often doesn't get it—the two recent exceptions being the upcoming miniseries "Klondike" and the Will Ferrell-Zach Galifinakis movie "The Campaign." He notes that most work comes to him through friends or friends of friends. It's a pretty tight little world out there," he says. "You start meeting people and developing relationships and end up working together." He admits that in the past he had some awful auditions, but it was his own fault. "I would sometimes go in with a bad attitude. I didn't care about the movie, in fact I had contempt for it. And I've had some where I've been very cynical and I didn't hide my cynicism well and I made certain snarky comments. I may have been right in the sense that the movie turned out to be a big dumb piece of shit, but my response to me would have been, 'Why are you wasting my time by even coming in?' That's the advice I would give myself if I could go back in time: Don't be an asshole. Don't go in with this attitude. Just stay at home."