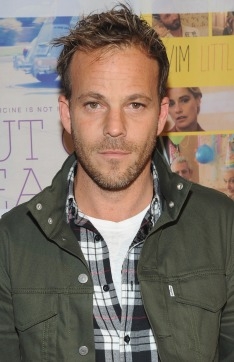 Stephen Dorff been around long enough, first as a child actor and more recently as an oft-shirtless leading man, to see his career fortunes rise and fall. He's currently reminding audiences that he can really act in the indie film "The Motel Life," directed by Alan and Gabe Polsky. As Jerry Lee, a fragile artist who lost a leg as a child, Dorff is more tormented than audiences are used to, playing beautifully off of Emile Hirsch's alcoholic storyteller whose stories are gorgeously rendered in animation. We spoke to him about surviving in Hollywood.
Chase after the roles that stay with you.
Though Dorff says that he's been lucky throughout his career to receive roles as offers, he's not above auditioning to get the ones he really wants. "There are those I want to fight for that don't come out of the gate," he says. "And Jerry Lee in 'Motel Life' wasn't being offered to me. Jerry Lee was a part I couldn't let go of, and he was one I fought for. So I went in a room."
Believe in yourself.
Although the Polskys couldn't see Dorff do the role's physicality, Dorff knew it wouldn't be an issue for him. "If I did every part that looks like I do as Stephen, I'd have a pretty boring career," he says. "The whole idea of being an actor is to change. The imagination of our incredible town is not what it used to be. It's a constant battle. But if you can fight every year and one of these films can squeak through, that's what I try to do."
Don't be afraid if you're intimidated by a role.
Dorff admits that part of the reason Jerry Lee stayed with him after reading the script was that he couldn't get a handle on him. "I didn't know how to approach the ups and downs of the scenes," Dorff says. "It reminded me of 'Midnight Cowboy' and 'Of Mice and Men.' At the same time, I didn't want it to be schmaltzy." Working with Hirsch and the Polskys, Dorff was able to find his way there–and he points out that the editing and the animation also stepped in whenever things became too emotionally heavy in the final cut.
Don't pigeonhole yourself.
Dorff's career has embraced the highbrow and the lowbrow over the years, and he says that's mostly been intentional. "You can count the unique filmmakers on one hand," he says. "If there's a good, bigger film that can deliver something, I'm fine to play that arena, too. 'The Immortals' was something I did right after 'Somewhere' because I knew I'd have a director who was a genius. So I knew the audience would be happy with the result, even though to me it was a big giant ab movie."
Relish the good jobs.
Although he's frank about the struggle to be a part of great projects, Dorff advises patience. Now that "The Motel Life" has been released, he says, "The problem is I have to find the next one, and it's always a nightmare. Sometimes there's just sitting involved. I'd rather sit and wait than go and do something I'm not really happy with."