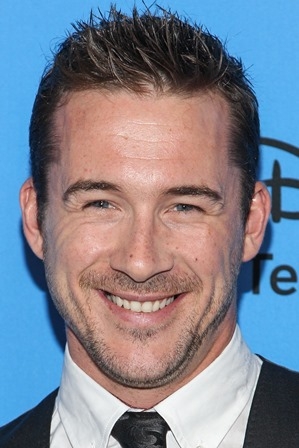 Now that it's clear Aiden survived last year's season finale of "Revenge," Barry Sloane is excited to talk about the new developments for his character on the ABC drama. The role of Aiden was pitched as the male equivalent of Emily Thorne (Emily VanCamp), which Sloane thought sounded exciting. Plus, he says, "Mike [Kelley, the show's creator] is a very good salesman so he got me on board easily." This season, Sloane is getting to play a lighter side of Aiden. "It's been really fun to be more a part of society and not in the shadows quite so much. Interacting with different characters and working with different actors has been great for me as well," he says.
The British actor came to the United States for a Broadway play, "Jerusalem," and from there, his stateside career took off. He booked "Penthouse North" with Michael Keaton and Michelle Monaghan and booked a lead role in a pilot for ABC. The pilot didn't get picked up, but Sloane credits it with getting him the job on "Revenge."
Make the most of every opportunity.
Sloane was busy shooting the Darren Aronofsky film "Noah," so he wasn't able to come in for a chemistry read with Emily VanCamp when he was offered the role of Aiden as a recurring character with an open-ended storyline on "Revenge." "I think they wanted to feel out the character a little bit and see if it was something that the show needed because I hadn't met Emily prior to filming," he says. Luckily, when Sloane showed up for his first day of shooting on the beach, things just clicked with VanCamp. "We had was a scene at the very beginning of season two, the first time that we saw Aiden, where he dragged Emily out of the water and he's there with Takeda and they have a fight," he says. "We hadn't met until that point, but we just kind of said, 'We want to make this special.' We needed a lot of sexual chemistry and energy at that first encounter, and it just gave us something to play with going forward. So I think we were smart enough to make sure we upped the stakes and made something of that very first encounter so the viewers could sense something."
Always see shades of gray.
"I've never seen any character I've ever played as a bad guy or a good guy," says Sloane. Instead, he focuses on the human aspect. Every character has some good and some bad traits. "I don't think there's one character on the show, maybe Jack Porter aside, whose morals are white and white, and I think that'll shift. I think that may shift slightly with Jack. Aiden's certainly not a villain to me," he says. And even if he were, who could resist falling in love with him?
Never stop learning.
Prior to season three, the majority of Sloane's scenes on "Revenge" were with VanCamp. As much as he loves working with VanCamp and the scenes they are able to create together, Sloane says he's excited to have the opportunity to play with other actors this season. "I think that as actors we just like to play with new people," he says. "Just getting to work with new faces and bounce off their energies is exciting." And he's enjoying working with veterans Madeleine Stowe and Henry Czerny. "Any actor with an ounce of a brain wants to work with experienced actors who've been in the game for a long time and formed their craft," he says. "I certainly enjoy working with those guys just to learn from them as well as to play with them." He also embraced the opportunity for growth on his film "Noah." "It was a pleasure for me, working alongside Russell and watching him and watching how he's perfected his craft," he explains. "I learned a lot from working with him."
Do your homework.
Sloane's preparation for a role varies depending on the project. "If it's a movie, you've got time where you can develop the character specifically and do your work before you start," he says. But on "Revenge" he prepares on a more scene-to-scene basis. "Each episode can call for something completely different. You have to make sure you do a lot of your own prep before you get on set, because it's such a tight schedule," he says. "If you're not prepared by the time you get to work, you're not going to be prepared." He feels that his work in the UK helped prepare him since the schedule is even faster on television in the UK. "I think we're used to working at such a pace that when we do get a little bit more time to hone things and produce a character, we're able to create something quite interesting. Because we're used to working with such a pace, that when we slow down, we find more things," he says.
Believe in yourself.
When starting out in the business, it's easy to get intimidated, but Sloane says self-confidence is an important component of success. "But I think that comes with age," he says. "Sticking to your guns and following the story that you want to tell and not backing down. I think you can try to people-please a little bit when you get in the industry because you want to make a good impression, and I think [over time] you learn to take your time a little bit. When you slow down a bit you find more things, so you don't have to rush through things as much as I did maybe in my early part of my career."