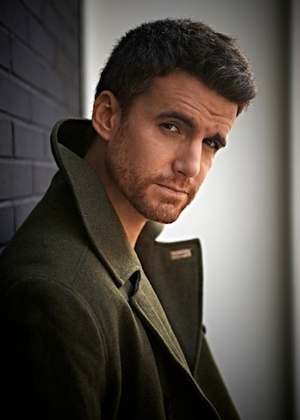 Fresh out of his first week back in rehearsal, Armando Riesco prepares to take the stage once again as Iraq veteran Elliot Ortiz in "The Happiest Songs Play Last," the final installment of Quiara Alegría Hudes' Pulitzer Prize-winning trilogy. Having originated the character in 2007's "Elliot, A Soldier's Fugue" and reprising it in "Water by the Spoonful" last year, it is a role that has grown close to his heart.
A far cry from the combat boots he's lacing up once more, Riesco has recently shed the high heels he taught himself to walk in for his most recent role as Rubia, the transgender, porn store-employed roommate of Emma Roberts in the film "Adult World," coming to theaters next month. Though he has been working on screen for nearly ten years, appearing in films like "Garden State," "National Treasure," and "Fever Pitch," playing Rubia has proven an especially enlightening adventure. "It's nice to play someone that's so outside yourself, but at the same time you find things about yourself… where you can connect with a character that's so different from you," he says. "And ultimately, all those facets of humanity are inside all of us. It was a very liberating experience."
Riesco opens up to Backstage on his transition from the stage to the set, soldier to transwoman, and what he's taken from the experience.
Give yourself the space necessary with tough roles.
Riesco's work as Elliot has been well-received by audiences, critics, and even Hudes' cousin Elliot Ruiz, off whom she based the character. He attributes this to extensive research watching documentaries and speaking with Iraq and Afghanistan veterans, as well as being able to experience the progression of the character's true story over the years.
Admittedly, Riesco found working to understand and embody the trauma and PTSD experienced by Elliot in "Water by the Spoonful" an emotionally challenging endeavor—one that required deliberate combating."I certainly had a ritual where after the show I just needed 10 minutes of silence to sort of get myself out of it and get in touch with reality so I could leave it in the dressing room and just keep going about my day," he says.
Through taking the necessary time to disconnect, Riesco has found himself able to appreciate the time he has spent as Elliot. "Part of me is ready to be done with it, but at the same time I know it's an opportunity that such a small percentage of actors get to do and I've been blessed," he says. "I hope that I get to play roles like this in the future and I can tackle things as deeply as I've been able to tackle this. It's bittersweet."
Don't write yourself off.
When his manager suggested he audition for the part of Rubia, Riesco's initial reaction was one of confusion and doubt. Given the character's gender identity as one so different from his own, he felt "like I had no business even trying," and decided to refrain. It didn't take very long before he began reconsidering.
"I went home that night and I thought, 'God, what kind of actor am I to pass on this audition? I mean, this is the opportunity of a lifetime. I probably won't get it but why not at least take a shot,'" he says. The next day, Riesco got on the D train in full makeup, courtesy of his wife, and headed to the audition. "The director apparently thought that I was a transvestite that they found off the street and that was a huge compliment," he says. Within hours, he was offered the part, an experience that he calls "the most fun I've ever had playing anything."
Take risks.
Though Riesco claims he's not an improv person, he found great payoff in making full use of the freedom to extemporize "Adult World" that director Scott Coffey afforded him. "He just let me run with the role and write my own lines and kind of do whatever," says Riesco, who was happy to see a lot of his innovation make it to the film's final cut. In addition to being a new and exciting experience, he feels it also "helped me really find the character."
Embrace the learning curve.
Originally trained in theater at Northwestern University, Riesco has successfully made the jump to the silver screen, but not with the seamlessness he initially expected. "When I first started acting one of the big mistakes I made in my twenties was thinking that acting was just acting," he says. "What I find out more and more the older I get is that even though at its core it's the same, it's absolutely different."
As Riesco sees it, the space an actor is given makes the storytelling itself entirely different, and adjusting is a task that doesn't come without putting in the work. "You've got to… take the classes and see what people are doing and practice at home with a camera and watch yourself on TV," he recommends.
Stay open to growth.
Unable to make a decisive preference between the screen and stage, Riesco says he feels it best to stay open-minded in considering future projects. Instead, he chooses to focus on taking on roles he feels will facilitate further understanding of his craft. "I think that it's a never-ending process and one has to remind oneself of that," he says. "It's not like you're going to get to a point in your career or your skill where you're done… Every role brings out different things and there's always something to learn and you gotta stay open to that."