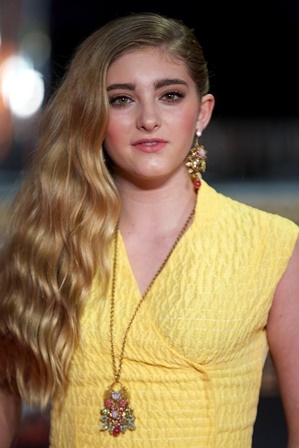 Willow Shields is catching fire in the latest edition of the "Hunger Games" saga, aptly called "Catching Fire," which hits theaters Nov. 22. Without any formal training, Shields dove straight into a film career, landing the role of Primrose, Katniss' (Jennifer Lawrence) sister. Thrust into the spotlight—much like the characters in "The Hunger Games"—Shields is excited to play a character with so much potential for growth throughout the series.
Shields started her career in New Mexico, where she worked on a few projects prior to "Hunger Games." "There were a lot of movies filming there so I decided to just start auditioning with my brother and sister," she says. When Shields was asked to audition for "The Hunger Games" she hadn't even finished the series of books.
Shields talks about her experiences on "The Hunger Games" and what's to come in the future films.
Connect to the character.
After reading the script, Shields says she really loved the character of Primrose. "I think that she's a kind and genuine character. She's always helping other people," she says. She put herself on tape for the audition, and the process went quickly. After going on tape, she flew to L.A. for an audition with the casting director and director. Shields didn't have to wait long to see if they thought she connected to Primrose—"They told me that I got the part right in that audition," she says. And her connection to the character has grown. "I would say along the way it gets easier to connect the dots and connect with her," she says. Shields says that she really likes dialogue scenes over the action: "I think [the dialogue] can really help connect you with the character," she says.
Read.
Even though Shields hadn't finished the books when she booked the role, she quickly finished them in order to prepare. "It gets you in character and helps you to see how they were portrayed in the books," she says. That was important preparation considering that Shields says the movies stay very close to the books. "When I read the books I always got really excited. At first we weren't sure if they were going to make all three books into movies, but we were still really hoping and fighting for my character to develop through the films," she says. During the series, Primrose grows up quite a bit, developing into a healer like her mother.
Build relationships.
Going into the film, Shields said she'd only met Lawrence, who plays her sister, once. Of the onscreen sisterly relationship, Shields says it "just developed on set while we were filming. We both connected quite a bit."
Use the energy on set.
"The readings were kind of challenging, but you know once you get on set you're with all the actors and that makes things a lot easier," Shields says. She enjoys working with other actors and finds it easier than scenes on her own. "I like reacting to other people, but it is partially the energy," she says. "When you're working in such a theatric environment it kind of just helps create more of a genuine acting experience for both of you and it can develop the characters really well."
Don't give up.
"Just keep trying, because there are lulls in an acting career. You'll be waiting to get a callback and you'll go on an audition and you'll get that part. You have time," says Shields, who has learned from experience that you never know what's next!