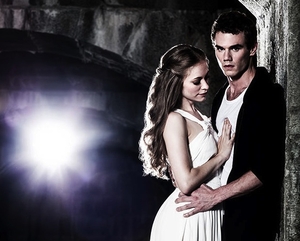 Michael Kimmel was walking down the street on the way to rehearsal when Jeff Buckley's "Forget Her" came on his iPod.
"That's funny," he thought, "because it's like Benvolio talking to Romeo about Rosalind." Kimmel went home and found his old copy of Shakespeare's "Romeo and Juliet" and immediately became fascinated with the idea of incorporating Buckley's music into Shakespeare's text. At this point, it's become a bit of an obsession. "Copies of 'Romeo and Juliet' have overtaken my apartment," he says. "Every time I'm near a used bookstore I have to find a copy that I don't own yet for some reason."
However, that obsession paid off as now, about four years later, Kimmel's musical adaptation of the star-crossed lovers with Buckley's tunes, "The Last Goodbye" (named for the single off Buckley's "Grace" album), starts performances at the Old Globe in San Diego on Sept. 22.
"Shakespeare fans are as rabid as Jeff Buckley fans and vice versa," says Kimmel. "People hold that work in high esteem, and there's a little bit of, not pressure because I think there's always fun in messing with something that is established or beloved, but I think honoring both the people in the thing is really important. I don't mean being slavish to anything…I would like to think that Shakespeare would really dig the out-there interpretations of his work."
While there are no current plans for a Broadway production, big-time Broadway producer Hal Luftig ("Kinky Boots") and Ruth and Stephen Hendel ("American Idiot") are attached.
"I want the show to be on as big a platform as possible ultimately because years from now, I want college and high school kids and community theaters singing Jeff's music and reading Shakespeare's work," says Kimmel. "I think that could be the greatest outcome of all."
Find your passion.
Kimmel attended Fordham University, where he now teaches, thinking that he wanted to be an actor, but transitioned gears to directing and writing. He directed the first incarnation of the musical at Williamstown Theater Festival (where it holds a box office record), It director Alex Timbers is at the helm for the Old Globe production. "After Williamstown I realized that I was having trouble separating the two jobs and decided that I thought it would be better if we brought someone else on to direct, and I could stay sort of script-based and story-based," he says. "Who doesn't want Alex Timbers to direct their show?"
Make something your own.
"Romeo and Juliet" seems to be everywhere right now. There is a Broadway production starring Orlando Bloom and Condola Rashad, an Off-Broadway production at Classic Stage Company, starring Elizabeth Olsen, and an upcoming film starring Hailee Steinfield and Douglas Booth. But Kimmel isn't concerned by the oversaturated marketplace. "It's really fascinating to see what people bring away from that play," he says. "That story's so dense and it holds up to so many different perspectives. I think that's why it's able to be done as much as it is."
Collaborate with people who are smarter than you.
Kimmel began work on the project as a concert at Joe's Pub, which is when executive producer Lauren Fitzgerald joined the project and when he met his now good friend, orchestrator Kris Kukul, who provided the musical arrangements and music directs the production. "You always want to work with people you perceive are smarter and better than you so it ups your game," he says. And all of the actors and collaborators have brought something to the text and the production. "When you sit there in a vacuum and all ideas have to come from you, they're never going to be as good as if someone else is coming in and topping you and you're adjusting based on that," he explains.
Embrace the unknown.
Working on a new musical—even one that's been in development for four years—comes with a lot of unknown factors, and Kimmel encourages actors and all creative to embrace to missing pieces in the process as they navigate putting the show up together. "Especially in the early days when we were putting it together, that actors would just come in and embrace not knowing a little bit," he says. "Those people that they can be confident working and not have to have everything answered right away and finding those answers on the journey together."
Find the best actors.
To Kimmel, the actor is always a collaborator, and Jay Armstrong Johnson and Talisa Friedman star as the leads in this production of the show. During auditions, Kimmel says he was looking for interesting interpretations of the material. "It's bold choices, something we haven't seen before," he says. "I actually find 'Romeo and Juliet'—this is going to sound terrible—but I find it to be hilarious in so many places and specifically with the kids…From an acting point of view, I like to see people who don't bring in the tragedy of the story on their backs. Or hold the material so precious. I would like to think that anyone sort of endeavoring to do any Shakespeare play—yeah you want people who are comfortable and make sense of the text first and foremost—but I think when you come in with eye towards the poetry and take the preciousness of the play out of it. It's a boy and a girl. And they're young and they don't know what the hell they're doing but they're trying to get this other person to like them. I think one of the ways that you really invest in Romeo and Juliet is by seeing them fail and by laughing with them at their failures. I think it's really endearing."