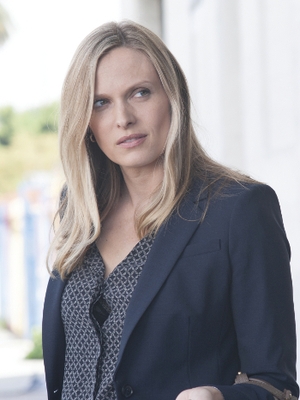 No longer running from Disney's Sanderson sisters in "Hocus Pocus," Vinessa Shaw is currently shaking up the world of "Ray Donovan" as Kate, a reporter searching for the truth on Sully Sullivan's murder. The child-turned-adult actor continues to rise to new acting challenges.
On growing up.
"I had done the child acting thing, which is pretty much learning your lines, standing there looking natural, and having fun. ['Eyes Wide Shut' showed] me what acting could be. I was able to find the process within that experience. It was delving deep into character and writing and rewriting the scenes [with director Stanley Kubrick]. I grew up on that movie and I had a whole new perspective of what it could be."
On dealing with the unexpected.
"The best thing I can do is get as much information as I can about the character. But nowadays that gets harder and harder with there being clauses and [projects] that are shrouded in secrecy. You have to sign off on some contract and say you won't speak about it. You kind of have to go with your gut with the information you have."
On pushing limits.
"I like to go over [a scene] many, many times and push myself beyond what I think I know. Is there something I'm not seeing in this particular scene? My method is more about repetition and breaking through my initial thoughts and finding another deeper moment that may be different than what anyone else does in the room."
On Kate.
"Kate has a realistic, gritty quality; she's a capable reporter, but also a person who has these deep desires to be recognized for who she is as a person. She has a lot of courage, but is naive in many ways about how she can uncover this story all on her own. I think that has a lot to do with her determination to be recognized.
On changing interpretations.
"Typically, I feel that once you're in a room with the other actors and the director, even the blocking can change your idea about it; it's obviously a team effort. You have to be ready and willing to be malleable so that you can enjoy what other people are bringing to it, not just what exists in your own head."
On overcoming audition anxiety.
"When I realized that nothing is perfect and no one is perfect, I was able to overcome my initial fears. I was holding myself to some weird standard that I was putting outside of myself, i.e., the director or casting director—they're not expecting perfection. I had all these strange trappings I would put myself in…. Once I could just let go and say I'm doing 100 percent my best, my extreme fears [went] away."
Inspired by this post? Check out our audition listings!