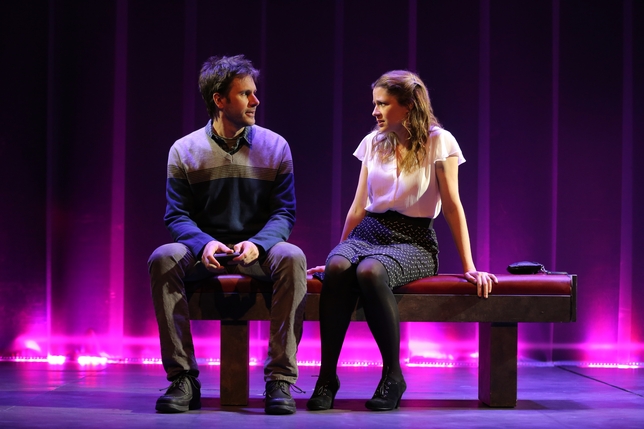 According to Jenna Fischer, when Neil LaBute calls you and asks you to do his play, you say yes.
"His plays are just amazing material for an actor," says Fischer, speaking by phone just before the opening of "Reasons to Be Happy," which is currently playing at the Lucille Lortel Theatre. "A lot of theater students famously do his plays because the material is so rich and complex. That's the reason why. You just don't pass up an opportunity like that."
Fischer makes her professional stage debut in "Happy," a sequel to LaBute's earlier work "Reasons to Be Pretty" about two couples and their various relationship misadventures. Although Fischer was familiar with LaBute's work, she had never seen "Pretty."
"Now I'm glad I didn't because I got to approach this with a totally blank slate, which is ideal," she says.
Doing theater can get you representation.
Even though "Happy" marks her stage debut, this is not Fischer's first time in the theater. At her parents' request, she went to college at Truman State University in Missouri and earned a theater degree. "I really wanted to move to L.A. and be an actor out of high school, but they thought it was really important that I get a college degree," says Fischer. "I'm really glad that they did, more for emotional development." After school, Fischer worked in a murder mystery dinner theater in St. Louis, and once she moved to California, she enrolled in a Commedia dell'arte class. As part of the class, she performed a show in full kabuki white face in an old converted warehouse "100 percent for the love of doing it," and an agent came to see the show. "I would never imagine that a rep would come see this play and have a vision of you as an actor because it was so stylized," she remembers. "He became my first real agent and he got me started in L.A."
Find the parts of yourself in your character.
"Steph is just me in my 20s!" Fischer says of her strong-willed, though naive, character in "Happy." She explains that she relates to the character's feeling of being trapped from her own experience growing up in a small town. "That's usually the first thing I do when I'm approaching a character," she adds. "I look for all the ways we're the same, and then the ways that we're different. I just try to imagine how I would be different, given those circumstances."
Collaborate with your cast and the playwright.
Fischer enjoys the longer process of doing theater, particularly when working together on developing her character's backstory. "If I show up on a set and someone is my ex-boyfriend, I've made up a bunch of stories in my head about what our life was like together, but he has no idea. I'm sort of just playing the history in a vacuum," she says of working on film and TV. "Here, I could come and say, 'You know what I thought this was about,' or 'I think this about us,' and then the other actor can say, 'Oh really, that's amazing. I always thought we were like this.' Then you have this shared history that you write together that I think informs your work in such a deeper way."
Fischer is also quick to say LaBute, who also directed the play, has been a pleasure to work with. "He's this warm, caring teddy bear of a guy," she says, adding that he's been open to some rewrites and changes through the rehearsal process. "We would talk about it, and he changed it, which is rare in a playwright/director, and so it was a really exciting process to be a part of," she says. "Being there to put it on its feet for the playwright and having the playwright adapt it as he worked on it was really cool."
Embrace your failures.
"I personally find that so much more satisfying to tell the whole story maybe because I'm impatient and I hate having to drag it out," Fischer says of doing a play versus a film. However, she acknowledges that a lot more responsibility falls on her as the actor.
"When you do a movie, you get multiple takes and people light you really pretty, and then an editor picks the best one so there's opportunities to fix your flaws," she says. "If you bluff a line, that's it. You bluffed it. You can try again tomorrow, but for these 200 people, they saw you mess up."
Don't be afraid to ask questions.
Since it is Fischer's first time on the New York stage, she's had some questions throughout the process, and castmates Fred Weller, Josh Hamilton, and Leslie Bibb have been invaluable resources. "There were a lot of things I didn't know, like protocol," she says. "I had no idea what tech week would be like—you just stand there and they focus the lights? Or do we do the scene? Am I supposed to do it full out or just mark it? I had all kinds of questions, and I said, 'Just tell me what to do so I don't look stupid.' "
Everyone has a different story.
"You have to do it because you love it," advises Fischer to young actors, adding to a long blog post she wrote on the topic of acting advice. "Not because you want to be famous or because you want to be rich. There's a lot less emotionally difficult ways to be rich so if you're looking for that, I encourage you to find a different path. And you probably won't be either of those things if you become an actor." She acknowledges that her work on "The Office" opened a lot of doors for her, but her other cast members, like Hamilton, have different paths. "He's truly living the life of a working actor," she says. "We were going over it backstage the one day, and when he was starring in 'Cider House Rules' at the Mark Taper Forum, I was going on auditions to play the fifth lead in a B-movie…Everyone's story is different. There's no right way to do it. You just have to do it all and then hope it works out. It's a hard life."