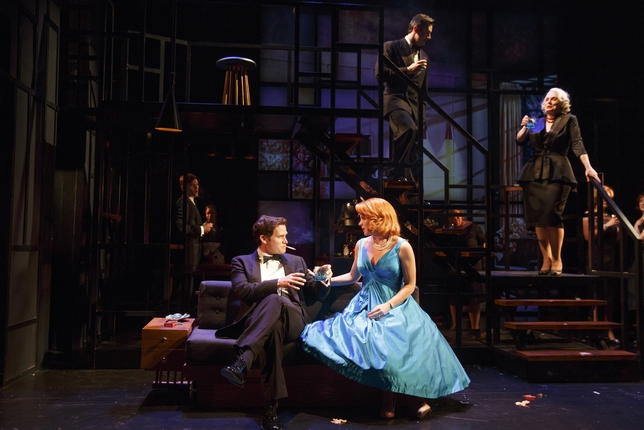 It's hard to believe that Steven Pasquale has never starred in a Broadway musical. It's also hard to believe that Steven Pasquale has never taken a voice lesson.
So how did Pasquale hone his dulcet pipes? "Mimic," he says with a laugh over the phone during his dinner break after a long day of rehearsal for "Far From Heaven," the new musical currently at Playwrights' Horizons based on the 2002 film. "I would sing along in the car to Stevie Wonder, Billy Joel, and eventually Mandy Patinkin and Anthony Warlow. Basically, I'm just stealing from those guys. I have no individual voice."
Those who see him in "Far From Heaven" might beg to differ. Pasquale plays Frank, the husband of Cathy (Kelli O'Hara), who is a closeted homosexual in 1950s Connecticut.
"Frank is a really interesting role for a guy like me because I often get cast as the truthful, earnest guy and play some really pretty songs. And there's a tendency to have not that much asked of you," he says. "Frank really runs the spectrum in terms of emotion—not just in terms of acting but also singing. It's an incredibly difficult range in terms of the score." Good thing he had all that practice mimicking!
Break outside of your type.
But Frank isn't the first role Pasquale has played that wasn't his "type." He decided to become an actor after a football injury and he joined the high school musical, where he felt the "warm embrace of the carnies of the theater." The musical? "Fame."
"I was Tyrone, the black kid dancing his way to the top," Pasquale remembers. "Now, I'm not black and I don't dance…so it was the most ridiculous thing you could ever see. There's still footage somewhere. I've got it in my house. For a price, I will break it out. There is a zero percent chance if you watched it to think I would be a professional actor."
Audition. Audition. Audition.
And yet here he is, though Pasquale will tell you it took him a thousand auditions to get to where he is now. "I really thought I was just terrible at it for like a year and a half," says Pasquale, who left Southern Methodist University after a semester and moved to New York "on a whim." "My advice for young actors would be, even if you don't always get cast, you're getting familiar in the community. What happened for me is people would like me for something but not hire me. But then they'd think of me for something else and eventually I got cast. Then those relationships grow even further to the point where you just get asked because you already have a relationship with a director or a theater or an artistic director or a writer."
Which is exactly what happened with "Far From Heaven." Pasquale ran into director Michael Greif on the street, and Greif asked Pasquale to do the show at the Williamstown Theatre Festival, which led to the current production at Playwrights.
Keep old friends.
"Far From Heaven" reunites Pasquale with one of his "first friends in New York," Kelli O'Hara. They met working on "The Light in the Piazza" at the Sundance Theater Lab, and although Pasquale couldn't perform in the show on Broadway due to a contractual obligation for his TV show "Rescue Me," they have remained in touch. "We've been ships passing for 12 years," says Pasquale. "It's great to look over and have a scene partner that you fully trust."
Be an original.
Since "Far From Heaven" is based on a movie, Pasquale didn't want to copy anything that Dennis Quaid did onscreen. "I try not to think of them as related in any way," Pasquale says of the movie and the musical. "I don't want to have my performance colored by what Dennis Quaid is doing in the film, although he's miraculous and amazing in the movie. I'm just trying to make sure it's coming from me."
Don't limit yourself.
Pasquale's various television obligations have kept him from committing to a Broadway musical in recent years, and now that his schedule has freed up, he's ready for his musical moment. "I feel like I'm better when I'm onstage, and I don't necessarily feel like I'm a better actor when I'm in front of a camera," he says. "It certainly makes you a better technician, but not a better actor."
When asked what roles he'd like to play on stage, he says, "I'm going to attempt to play all of them!" He adds that he's about to play one of his dream roles, though can't reveal which right now. (Maybe it's "The Bridges of Madison County," the new Jason Robert Brown tuner that Pasquale will star in at Williamstown this summer, which has already announced a 2014 Broadway run.) But how will he make it in a Broadway musical if he claims he can't dance? "If Matthew Broderick can dance, I can dance," he says with a laugh.
Be a businessman.
And though Pasquale has plenty of practical experience in the craft of acting, he says if he had one piece of advice for aspiring actors, it would be to "live small." "I'm so interested in teaching a master class that's called 'The Real Life of Acting,' " says Pasquale. "It has nothing to do with acting. It's just about how you get to New York and how you deal with moving to this crazy city. Because I feel like I did it wrong. I was on tour. I was making tour money, and I moved to New York and I had all this money saved and I got too expensive an apartment and I lived too large and I spent all my money and I was poor and broke and it's so so sad. And I feel like the biggest lesson I can tell a young actor is to keep your life small and manageable even when you start working, because when you start to make a little bit of money, it's so easy to up your quality of life to the point where then you need to do that kind of job. The freedom to live small enough allows you to work Off-Broadway or Off-Off-Broadway, out of town, so that you're not bound to a production contract or a piece of shit television experience...I would recommend that young actors should keep that in mind. You know, 'Oh my god, I'm working, I'm on Broadway!' And all of a sudden you make your life a little bigger, and then out of the blue you gotta have a job like that instead of it being a special thing."