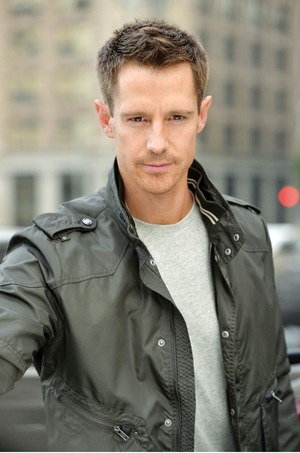 Even after the show's cancellation, Jason Dohring has remained Logan in the hearts of "Veronica Mars" fans, and now they'll have the opportunity to see Dohring reprise his role opposite Kristen Bell in the "Veronica Mars" movie which hits theaters tomorrow, March 14. Dohring has been working steadily on TV projects ("Moonlight," "Ringer") and films ("Deep Impact"), but when creator Rob Thomas called with the news that "Veronica Mars" was going on Kickstarter and they wanted Dohring to reprise his role if the funding was raised, Dohring was thrilled about the opportunity to reunite with the cast. The campaign met its goal in the first day and went on to raise over $5.7 million.
The movie picks up 10 years after the series finale, and the characters have been through a lot, but Dohring had no trouble reconnecting with the role. "I just started reading the names of the characters and I'd just start to like feel butterflies in my stomach." Adding to the excitement of being back was the fans' enthusiasm, both in funding the film and in following the shooting.
Dohring offers advice on preparing for roles and shares stories about getting cast in "Veronica Mars."
Be yourself.
When he initially auditioned for the "Veronica Mars" pilot, Dohring came in to read for the role of Duncan. "I was on such a James Dean craze that I made the leading man this really dark guy." But they liked him, so they asked him to read for Logan. That turned out to be a better fit, and Dohring not only booked the role, but made it his own, and won the hearts of millions of teen girls along the way.
Preparation is never wasted.
While Dohring was auditioning for Logan, he worked on an intense scene with Logan's dad where Logan was getting burned with a cigarette lighter. "I worked my ass off on this and I did it for a couple auditions." In the end, Rob Thomas told him they weren't going to use the scene because the executives thought it was too intense. However, preparing the scene had given Dohring the underlying emotions and depth that he needed to keep Logan well-rounded.
Remove distractions.
"The pain of [acting] is the memorizing of lines because that can interrupt what you've created." Dohring says it's always frustrating to be in the middle of a really good scene and have to break the moment to look down for a line, so he always checks that off his list first. "Then I can just be there in a very live way. That's when the magic happens."
Don't lock yourself in.
Dohring has a typical method for preparing a role, but it's ever-evolving. "Right now I'm reading this book called 'Audition,' which I've never read before. It's by Michael Shurtleff and it's unbelievable. I think it's everything you need to know about acting." Dohring says he used to just read a script over and over until he got it. "What I lacked in being able to break down a role, I made up for with hard work and I would just go over it and over it. I would take a three-page scene and I'd spend two to five days just holed up in my apartment going over it and going over it until I came up with ideas."
Let your imagination go.
"I always equate [preparing a role] with reading a good book…you're imagining what that character looks like [and] what he sounds like." Dohring treats a script the same way as a book and gets ideas while he's reading. "You have to go with those unless it totally violates the story or something like that. In an audition, it's even more important because you know 98 actors are going to do it one way and two guys are going to do it a different way and more often than not they're going to pick one of those 'interesting' choices." He notes the importance of choices to set you apart. "The exciting part for me is the discovery aspect of those choices that nobody else can come up with."
Trust your impulses.
"I wish I had known to trust my impulses. I wish I had known that Stella Adler quote ["In your choices lies your talent."] a little more and just trusted it. When you get that idea, go with that. Don't invalidate that. Don't say 'Oh, that's no good,' [or] 'They're not going to like that.' That is what makes you who you are and when you really commit to that, then you get freedom."