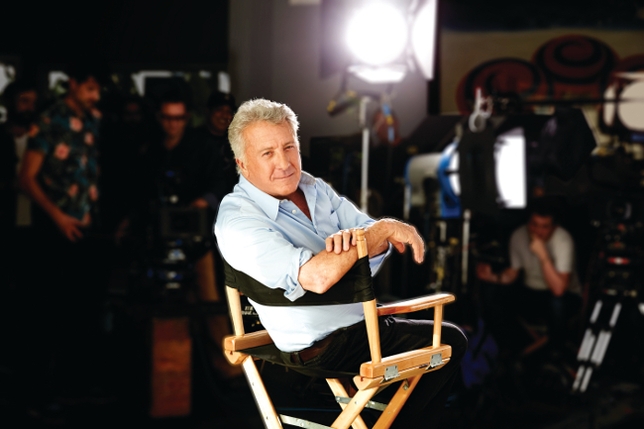 Acting coaches consistently use words like "stakes," "desire," and "vulnerability." But when that coach is two-time Oscar winner Dustin Hoffman, those stakes are taken to another level.
Hoffman has decided to share his decades of experience via the educational platform MasterClass. Five hours of the revered actor's teachings are available online, broken into segments focusing on everything from line delivery and being in the moment to acting as yourself to be the character.
"He walked us through what it was like to not speak the subtext and talk as human beings," says Molly McCook, one of the actors chosen to rehearse a scene with Hoffman live for the MasterClass cameras. "He encouraged us to speak not as the character but as ourselves; it was so interesting. We were playing this scene where [my scene partner and I] were having an affair and Dustin told us to play it how it actually was—we had just met each other—and to explore that."
McCook says the exercise opened her up to a new level of vulnerability where she was no longer able to hide behind the character, and instead revealed herself to her scene partner in casual conversations about Thanksgiving dinner that dovetailed with the script's text.
"He made really smart directorial choices," adds actor Annie Dow, who was able to do a coaching session of a scene from "Jerry Maguire" with Hoffman via Skype. "He said, 'Pretend you're not talking to your sister [in the scene]; you're talking to yourself. Mutter these lines to yourself and then tap into the last time you lost something and think about that while thinking about this new thing you're talking about in the lines.' It ended up creating the effect that my character is being open and forthcoming in the moment."
For readers thinking, Great. Two actors spoke to Dustin Hoffman about their work. How's this going to help me on the other side of the screen?, know that lessons are translated beyond one-on-one interactions.
"I've been acting for a long time and to hear his explanations on how he approaches work, and then [hear him] share stories of how he used that approach on a particular film, that was really great," says actor-coach Graydon Kouri, who was so inspired by MasterClass and the community galvanized by its Facebook page that he decided to start a weekly L.A.-based meetup for actors interested in getting in-person feedback. "I've heard a lot of people say they learned new ideas on how to work a scene to have a natural, conversational feel."
In addition to being able to go at your own pace, refer to included reading materials, and revisit lessons that merit repetition in the comfort of your home, MasterClass delves into the specificity of the accomplished actor's toolbox.
And for those in the more far-flung regions of the U.S., like young actor Emma Lyle, who appeared opposite Sarah Jessica Parker in "I Don't Know How She Does It," MasterClass is an invaluable tool. Living in Kentucky, Lyle says there are few acting schools nearby and after working on MasterClass, she felt relaxed and confident when she went in to audition for the lead role in the upcoming film adaptation of the teen book "Jessica Darling's It List," which she booked.
From start to finish, Hoffman aims to create a sense of awareness in his actors, both in front of and behind the camera, encouraging appreciation of self as well as of the people in the room (e.g., the crew). Throw away the idea that "everything disappears when the director says action," he advises; embracing the reality of the film set's surroundings will bring them closer to an authentic performance.
"It's this amazing intimacy that's hard for humans to achieve in front of other people," says Dow of filming. "But that's the great thing about the camera—it lets us spy on someone's private moments."
Looking for new material for your next audition? Try "The Monologuer" for a customized search!