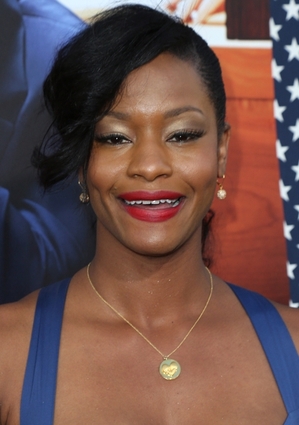 "I really love 'Veep' for bringing humor to a subject that isn't always so humorous," says Sufe Bradshaw, who plays Julia Louis-Dreyfus' no-nonsense executive assistant on the HBO comedy. She says, "Even as a young person, [I remember] loving the idea of how the country works and whose job is what." That interest has led to another priority in Bradshaw's life: Charity work. She recently participated in the V-Day One Billion Rising challenge and is involved in the Boys and Girls Club: "It's such a great program that instills confidence and literacy and social inner workings of children," she says.
Bradshaw views acting as a journey, and offers some tips on what she's learned on her journey so far.
Know your motivation.
"This is one thing I had to learn through trial and error, but really be clear about why one wants to act," says Bradshaw. She says once she was clear about what she wanted, it became easier to navigate and get there. "There are so many people who are going to say 'Well, I can't do something,' or 'It's not achievable or attainable' but I'm living proof that it is," she says.
Nerves aren't always a bad thing.
"I'm a Nervous Nelly," says Bradshaw, "I still very much get nervous because you never know what the auditors are looking for what casting and directors are looking for." But Bradshaw thinks the nerves make her a better actor. "I think actors - the good ones - are always going to have a little bit of that nervousness going in because it keeps you fresh and it keeps you on your toes and lets you know you're alive."
Create character inside out.
Bradshaw says Sue just jumped off the page when she read the script. Bradshaw loves Sue's fashion sense. "When I put on that suit and I put on that bun and that hair gets in there… I go right into the character," says Bradshaw. But she still had to understand who Sue was. "I really think that studying theater early on really helped me to be able to identify how to get into a character, because it's such a mysterious thing," says Bradshaw. "Learning objective acting in the beginning of my career was the best thing I could have ever done. If you go from Sue in 'Veep' to a dramatic character in 'Les Miz' [and] you know what you're doing in the scene and you know what your objective is, then you're safe. You just play off the other person. You listen and you just work on your objective." She credits a lot of the skills and abilities she has now to all the community theater and studying in acting workshops and classes that she did early in her career.
Be open to other interpretations.
Her extensive theater training provided her with exposure to improvisation, which Bradshaw feels is a skill any good acting school should teach. She enjoys the many opportunities to use those skills on "Veep." "Not being married to the script is awesome," she says. "It's freedom and it's also the idea of what else could be true about this? Where else could this moment go or this joke go when you let everyone else's experiences into the material - Julia's experience, my experience, and Matt's experience will come in -then it will just help the scene grow naturally. Very organic progression," she explains.
Keep plugging away.
"A drop of water on a rock does nothing, but you have that water hit the rock over time, it'll completely make, it will open the rock up. It will burst. It's about applying the time," says Bradshaw. And don't wait for the work to come to you. "Make work. I'm a huge believer that work begets work," she says. And you don't have to do it alone – find a buddy. "It takes a village to create something as special as acting," she says.
Enjoy the journey.
"It's not a race; it's a marathon," says Bradshaw. Bradshaw's learned that acting is not about the result, it's about the process. "Enjoy the process, because all those experiences, whether you booked the job or you didn't, whether you had a great performance that night or a terrible one, whether you completely failed or whether you were a hit, all that is stuff you can apply to your acting. It can all go somewhere," she says. "Acting for me was such a practice. Like practicing anything, like sports or yoga, it's just practicing over and over -- the actual time that goes into it is truly important. And have fun!"
Keep dreaming.
"When I was younger I used to want to be like a back-up dancer," says Bradshaw, "and my mom was like, 'Well, you know you can do that, but you might want to choose another career." Despite being on a hit TV show, Bradshaw still has dreams, but now she dreams of being on Broadway one day. "There's a play called 'Burn This' by Lanford Wilson; it's one that I would absolutely love to do," she says. "I just love acting. Being in theater or being in television or film I'm really living out my destiny."