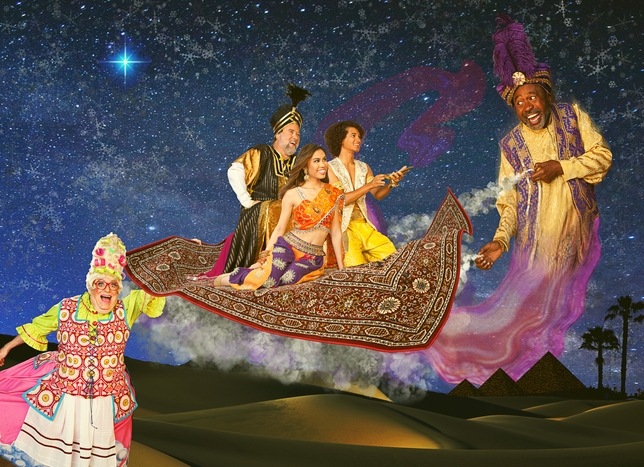 The bubbly and outgoing Ashley Argota is bringing her overflowing energy to the stage as Jasmine in "Aladdin and His Winter Wish" at the Pasadena Playhouse opening Dec. 11. The production brings more modern music to the Disney characters. "I'm not singing 'A Whole New World,'" Argota says.
Argota started singing at two and acting at five. By age 10 she was on "Star Search" and went on to play Young Nala in the west coast tour of "The Lion King." The "True Jackson" and "Bucket and Skinner's Epic Adventures" star recently wrapped Disney's, "How to Build a Better Boy," and has been working on a new album with all original songs. Excited to be back on stage, combining her love of singing and acting in another Disney inspired production, Argota shares stories from the set and acting advice she's picked up along the way.
Have fun.
Argota's enthusiasm isn't just for the roles she books. "I actually really like auditioning. I like having multiple auditions in a day because it's a really cool challenge as an actor, because you have to go from one character to another in the span of a couple hours." Argota says auditioning for "Aladdin" was especially fun. "Sometimes you go to auditions where people don't talk to each other, and it's a really awkward environment, but the Lythgoes just made it a really fun experience and I didn't feel awkward or under any pressure."
Argota's challenge on "Aladdin" is not to have too much fun. "Because we are working with some of the best comedians ever," she says. "Bruce Vilanch is amazing and Ben Vereen is just absolutely incredible. There have just been times when people will say things and they'll just make it so funny and it's so hard to keep a straight face. So I have to definitely work on not laughing when I'm on stage."
Find yourself.
Argota's Jasmine remains pretty true to the Disney version, although she didn't rewatch the film. "I didn't want to make her too similar to the movie character. I wanted to bring my own flare to it and have my own ideas about the character." Argota always looks for a connection to the character she's playing. "I try to find some aspect of myself in the character—some aspect of Ashley in that character and I just build around that."
Face your fears.
Argota is facing her fear of heights to "fly" on the magic carpet in "Aladdin." "I'm very interested to see how the carpet's going to fly because I want to see how it looks, but also because I'm afraid of heights. So when they bring us up on the carpet, I'm not going to be able to look down," she says.
To avoid the pitfall of fearing auditions, Argota says, "I look over everything as much as I can before I get to the audition and then I try not to look at it while I'm in the waiting room, only because I don't want to psych myself out and get too much in my head. You have to go with the flow and let it go organically when you get into the audition."
Try new things.
One challenging but fun aspect of "Aladdin" has been the idea of audience interaction. "Breaking the fourth wall and talking to the audience is really interesting for me." Argota seeks out different characters to play. Recently, she played a "mean girl" in "How to Build a Better Boy" for Disney. Although she'd done a guest spot as a mean girl, she'd never had the opportunity to really delve into a character like that and embraced the opportunity. "It was a lot of fun for me because it was so different from how I am in real life. So to get to go on set and just be a completely different person and then they call 'Cut!' and I get to be Ashley again; it was a great experience for me as an actor… I love being able to step into the shoes of another person and get to tell their story."
Set goals.
"I had a goals sheet when I was eight years old. I was like 'I want to be on Disney.' So getting to do all this Disney stuff lately is a dream come true." She was thrilled to be doing the "Aladdin" photo shoot on the magic carpet. "My inner five-year-old was like 'Oh my God, this is so cool.'" Argota continues to set goals for herself, one of which is to be on Broadway. "When I was in 'Lion King' playing young Nala, I told everybody I was going to come back and be big Nala. That is still on my goals list."
Work hard.
Argota interacts with her fans via Facebook and Twitter, which has made her aware of the misconceptions many young actors have about Hollywood. "I think a lot of people underestimate the hard work that has to go into it. There's lessons that you have to go to and you don't get every audition that you go out on." Argota tells young actors: "Don't be concerned about the fame part of everything. If you want to be famous you can go get a reality show, but if you want to be an actor or a singer you really have to work as hard as humanly possible and make sure that this is your passion. Be prepared to work very, very, very hard if this is something that you would like to do."
Be open to any opportunity.
Argota loves singing, acting, writing songs, and is even interested in writing screenplays, directing, and editing. The busy actress has been spending her free time co-writing 27 songs for her new album with songwriter Rebecca White. "I've been promising my fans that I was going to release music for a few years now. So now that the songs are all written and all I have to do is record them, I am pretty sure that my promise to release music is actually going to come true."