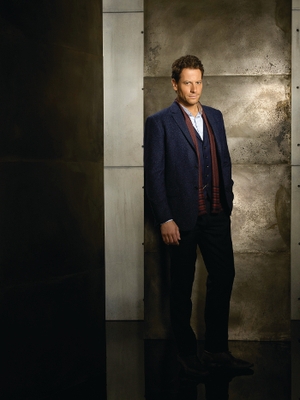 Known best for his work on the "Fantastic Four" films, Ioan Gruffudd is taking on the small screen on ABC's "Forever." He chats about what he's learned from television, balancing career and parenthood, and the role that's stayed with him for over a decade.
Tell us about "Forever."
It's on the air currently. We're shooting our 17th episode right now and I play Dr. Henry Morgan, a medical examiner, who's immortal.
What have you learned about your craft on this project?
Television is such a fast medium compared to a lot of the movies I've made, and certainly to the theater I've done. I've learned you've got to trust your initial gut instinct because there is no time to rehearse and play. There was a time at the beginning of shooting where I got so wrapped up in the minutiae of details and character and props and backstory, and I realized quickly when I started watching the show on air—not that that stuff was irrelevant, but it wasn't as important as telling the story and just getting on with it. When they edit it, it goes so fast that all those details I was worrying about never [make it] to the screen.
What do you wish you'd known before you started acting?
Acting has been part of my life and upbringing and my education, because I started at the age of 11. I was on a soap opera back in the U.K. and I was a child actor, so it's part of my makeup and part and parcel of my being. Plus, I didn't know much when I was 11 anyway! But now I know you have to be open to your life being fluid—that nomadic lifestyle. I've always enjoyed it, but now I'm learning something new about life as an actor being a parent. I have daughters in L.A. while I'm shooting this show in New York, so I'm at that juncture of having to decide whether or not to bring them on that journey.
How did you get your SAG-AFTRA card?
It would've been shortly after doing "Titanic." I'm not sure of the process, where you're not in the union yet but you're on the journey? You have to make a certain number of days, and "Titanic" was my first real job that was an American job.
Which of your performances has left a lasting mark on you?
There's one role I don't think anyone has seen here. It was on the BBC, called "Peacekeepers" or "Warriors"—I think it had two titles. Peter Kosminsky directed a three-part drama about the conflict in Bosnia. Damian Lewis and Matthew Macfadyen were also in it; this is 10, 12, even longer, years ago now, but it was an amazing experience. [Kosminsky] was trying to get me to not act. I'd been cast because I was quote unquote perfect for the role, so he told me to just say the lines. That was an interesting and hard experience—there's something comforting about acting, and this really cut to the bone and was the closest thing I'd played to who I actually am.
How do you typically prepare for an audition?
I always start with the script. If there's no script involved I tend not to want to go up for things. You have to be able to put that character in context so for me personally, I need to know the lines back to front. [Auditioning is] unfair and such a strange and foreign thing; actually it's the complete antithesis of what acting on a set or stage is. I wish there was a better way to go about obtaining a role. Auditioning is sort of my definition of hell. It has no bearing on whether anyone can act. But I just prepare as much as I can to create something believable and real within the confines of a room with no backdrop, costumes, often someone reading the lines in a disinterested way with you. I don't think I've ever been cast from an audition. I've been cast from a meeting with the directors, producers, and decision makers. Grab a coffee or something. That's the tradition in Europe, I guess.
What is your worst audition horror story?
They're all pretty horrific, really! I went up for a great part in "Homeland" a few years back. I just got the nerves, and I basically had an out-of-body experience. I don't recall what I did, what I said, who was in the room. I had no idea if I spoke in an American accent, which the part required. There was an actor who'd just come out and he bumped into an executive who walked the actor back into the room and said, "This is the guy, this is your guy! Stop looking! What are you doing?" This is all happening while I'm about to step back into the room; that might've thrown me for a complete loop. There's a silver lining in the sense that a little while later I was up for a different part with a casting director who was championing me for the role. She told me she wanted to see what I had done in the "Homeland" audition. I was like, "How on earth did you even see that?" And she showed me the tape and it was like, with all the wealth of experience I have [as an actor], I was able to overcome everything going on inside. She said to me, "It was the whole of you, as a person, as a character, as an actor, was out there to be seen; it was raw." To which I said, "If that's what it takes to get a bloody job, I'm in the wrong business!" But looking back, the nerves and anxiety sort of colored the character.
What was your worst survival job?
I was very lucky. When I was in the soap opera back in Wales, I saved all that money to help get me through drama college. I used to go back and do some episodes during the hiatus in the three years [at college], so I had money to help pay my courses and housing, help my parents and grandparents. Shortly after having left I got three, four jobs in a row, paid off whatever debts I had, and then started living and earning my own keep from an early age. I've been fortunate because of the soap opera as a teenager and the money is saved—I knew I wanted to put it to good use—I never really had to touch wood and do something subsidized by my vocation.
Like this post? Check out more of our Backstage 5 interviews!