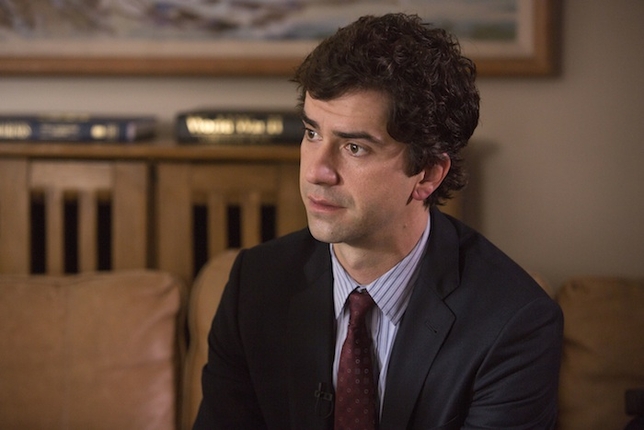 When Hamish Linklater was offered a role on "The Crazy Ones," a new CBS comedy starring Robin Williams and Sarah Michelle Gellar, he was convinced they had the wrong person.
"Are you sure you won't let me audition?" Linklater remembers thinking. "They just offered it to me. It was ridiculous. You're convinced they've made a mistake and it's the other Hamish Linklater that they meant to cast. Hamish J. Linklater."
With the number of projects he's been juggling these days, a second Hamish Linklater doesn't seem too unlikely. He even played a set of twins in "The Comedy of Errors," opposite Jesse Tyler Fergusen, as part of the Public Theater's Shakespeare in the Park earlier this summer. In addition to "The Crazy Ones," he also has a major guest starring arc on HBO's "The Newsroom," and he just returned from the south of France, where he filmed the next Woody Allen movie with Emma Stone and Colin Firth.
"That was like gravy ice cream on top of bon bons on top of French champagne," Linklater says of the experience.
Herein, Linklater shares his experience and how actors can reach the land of gravy ice cream and bon bons.
Try to keep up.
Linklater is no stranger to television comedy; he spent five seasons with Julia Louis-Dreyfus on "The New Adventures of Old Christine," which was filmed in front of a live audience. Linklater says the crowd helped gauge the humor, but working with Robin Williams on "The Crazy Ones," he trusts the comedy "savant" to lead the charge. "You just try to get on the train with him and ride with the wind in your hair," says Linklater. "He's so fast and so facile. That's what it's all about—getting going with that energy. But you can't really duplicate it so you try to feel like how do you harmonize? How do you harmonize with a freight train? You just blow your whistle on your golf cart and watch it whiz by."
Don't be a jerk.
While working with an icon like Williams might be intimidating for some actors, Linklater says that Williams' personable and affectionate nature make it easy. "As soon as a take's over, it's like a teddy bear tea party," he says. "Between takes, he downshifts and then you're talking about your kids." Do they really have teddy bear tea parties on set? "Oh yeah, we always have teddy bear tea parties," Linklater jokes. "Everyone gets a different bear. Mine is Pooh. Someone's got Paddington. And Robin's just a honey bear."
If you don't get cast the first time, you might get cast the next.
Linklater initially auditioned to play Jim Harper on "The Newsroom," but the role went to the "brilliant" John Gallagher Jr. The show invited Linklater to join the cast for a six-episode arc as Jerry Dantana, Jim's fill-in while he's working on the Romney campaign. "I'm like doing his matinee performances," jokes Linklater.
Sometimes what scares you makes you stronger.
Linklater initially thought that Aaron Sorkin's writing would be intimidating, considering its fast pace and rhythm, but he immediately felt right at home. "He's really generous with his characters and with people lucky enough to play them," Linklater says of Sorkin. "It looks really daunting from the outside but when you get in, it lifts you up."
Find your own voice.
Linklater is a writer as well, and his first play, "The Vandal," was produced at New York's Flea Theater earlier this year. However, he had to be sure not to mimic writers like Sorkin. "I had to be really careful with rewrites and fixes so that all of a sudden they didn't sound like someone from 'A Few Good Men' had walked onstage," says Linklater. "His style's real infectious, so I had to try to inoculate myself against the infection."
Pain reaps great rewards.
Linklater calls himself a "bit of a masochist," and even though having his first play produced was terrifying, it was also a rewarding experience. "It was like being on the rack, having a first play produced," he says. "And the agony from it was like manna from heaven." And is he planning to do it again any time soon? "If anyone wants to raid my hard drive, I'll give them the password," he says. "And please, please produce me again, because it was really a joy."
Get your workout in.
As the son of famous Shakespeare teacher Kristin Linklater, Linkater grew up alongside the theater company Shakespeare & Co., so theater is in his bones. And doing shows such as "Comedy of Errors" helps keep him fit for all of his acting projects. "The more varied the work is, the more flexible you are as a gymnast, and everyone wants to see a flexible gymnast on television," he says. "Doing a play in the park and all the sweat from the heat or trying to stay dry from the rain and shouting over helicopters, it's the best kind of cross-training you can do."
Do everything.
"Do everything you can do to help further your career and your craft every single day," Linklater advises aspiring actors. "Send out your postcards. Get your new headshots. Ring every doorbell. Go to every class that you can. Go to every open call that you can. Leave no page unturned, no 't' uncrossed. It's so much about luck, and you just want to make yourself as available to luck looking down on you as you possibly can. And it will make you a better person the harder you work."