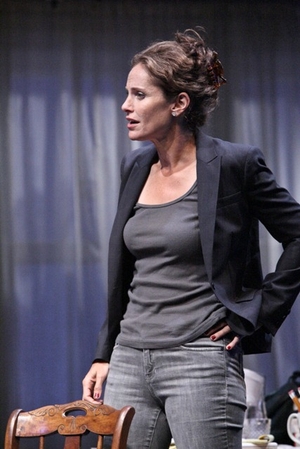 Amy Brenneman fans may know her best as Amy from "Judging Amy" or more recently as Violet on "Private Practice," but the prolific actor is currently concentrating her attention on another strong character: Catherine in the play "Rapture, Blister, Burn," by Gina Gionfriddo. Brenneman was part of the original production at the Playwrights Horizons in New York in 2012 and is returning with the rest of the cast for the Geffen Playhouse production, which plays through Sept. 22. In New York, Brenneman was working away from her family for the first time in a long time, but now she'll be driving her kids to school in the morning and performing at night. The change in circumstances brings home the themes of the play—career, marriage, and kids.
Even though the cast is only getting a short rehearsal period, Brenneman says a lot of the pressure is gone. "We have basically six days in the theater, and then people start paying to see it," says Brenneman. "I think what was really fun in the last week in the rehearsal room is you don't have the panic of like, 'Oh my god, does this work or not?' " Being back with her castmates was a nice reunion, and Brenneman says it's one of the reasons the show works so well. "Gina's written this incredible mosaic of looking at the same issues from different points of view, and she's a great playwright and these actors are fantastic," says Brenneman. "When any one of them is talking you're like, 'Oh, they know what they're talking about,' like it seems correct, their point of view."
Keep working in the theater.
As a founding member of the Cornerstone Theater Company, Brenneman has always valued theater and has a New York theater agent to scout for projects for her. When she read "Rapture, Blister, Burn," she loved it immediately. "[Television's] just not language-based, it's much more image-based and behavioral-based…so to just have the joy of that language—and I play a teacher so I talk a lot," says Brenneman. And playing an academic is not far from real life for the Harvard grad. Brenneman has also written her own play, "Mouth Wide Open," an original performance piece inspired by a stay in the hospital that put her beliefs to the test and prompted her to explore spirituality.
Character is key.
Brenneman's criteria for choosing projects are characters that are three-dimensional and get to change throughout the course of the work. The characters in "Rapture, Blister, Burn" are a perfect example of this. "All these characters are multi-faceted and they all change and they're all recognizable and Gina loves them all and that's something I've really come to see as a defining thing," says Brenneman, adding that Gionfriddo willingly listens to the actors and addresses their concerns. "Even if characters do bad things or are sort of unlikable, in that, do I feel like the author really loves these characters?"
Prepare in your own way.
Brenneman didn't study acting in college and doesn't subscribe to any particular "method." "Honestly, this is going to sound really pathetic, but in this one it was really important for me to learn my lines correctly. I feel like with film and television, so much of it is about presence and it's great to improv, and a lot of writers enjoy that," she says. "Not that Gina was a stickler, but this [was] almost like doing Shakespeare, like the exact line said a lot." So Brenneman focused on the text. The character was also very different from Brenneman herself, since the character's struggle is about longing for a family, and Brenneman is the busy mom of two. Brenneman says being away from her family in New York actually helped her create Catherine.
Take direction.
Brenneman credits director Peter DuBois with helping her create Catherine. Brenneman says the amount of direction needed varies depending on the project, the collaborators, and how you're doing, but with this project DuBois' direction was helpful. "He's a blast and I trusted him immediately," she says. DuBois was familiar with Gionfriddo's work and knew that even though it reads very naturalistically, it would play more like Noel Coward, says Brenneman. "He kept saying, 'Don't think into super-duper naturalism. You'll understand when you're in front of the audience' and he was absolutely right, and the minute we had an audience, there were laughs," she says. "I remember there was this line that was so sad, and the audience totally laughed. And as soon as they laughed I was like, 'Oh, it is really funny.'"
Do less.
Early in her career, Brenneman says she tried to plan everything out. "Like every scene I had a little song that got me in the mood of it, and it was just a lot of work and although it was good, [and] it's kind of what I needed to do at the time," she says. "I think that there was this moment that started when I did that movie 'Heat' and then certainly continued into 'Judging Amy,' where I started realizing that the stuff I really like is pretty effortless, well, anyway it looks effortless." Now, Brenneman will go into her imagination when reading a script or prepping something, but when she's on stage or on set she tries to just let go and be present with the other actors. "There's such richness in being present with the actual situation. I have more fun and try to worry a little bit less," she adds.
Challenges can be exciting.
In one scene in the first act, Brenneman's character is teaching three other characters. "It's a long scene and I just thought, 'Oh my god.' When you do a television script, if you have more than two lines, you know one of them's gonna get cut because 'No, that's too long,' or 'This is just going to be shortened' and it wasn't and it shouldn't be," she says. "It's a genius scene and it takes a certain amount of standing, and I realized during a performance, 'Oh, I'm actually teaching the audience.' "
Know your medium.
Brenneman's instinct was to approach that scene in a certain way, but DuBois steered her in a different direction. "I feel like sometimes in film and television, you show your emotions, [but] there's not necessarily as many levels. It's like if a character's sad, the script says 'she wells up.' But Catherine is so multi-layered and she hides in different ways and she reveals in different ways," she says. With film and television, once the camera is rolling it's private and when the take is done, you're done. "It's a little bit more like real life probably. Whereas with theater, you gotta do it again and again for a new bunch of folks," she says. "So I think they both have challenges and they both have things that are easier about them."
Create your own content.
Besides the play she wrote, Brenneman also created the TV series "Judging Amy," inspired by her mother. After the series ended, Brenneman took a break from producing, but recently she's been writing more and produced a short film, "The Procrastinator." Before landing the role in the HBO pilot "The Leftovers," Brenneman had planned to focus her energy on pitching a TV series, and still plans to pursue that avenue in the future.