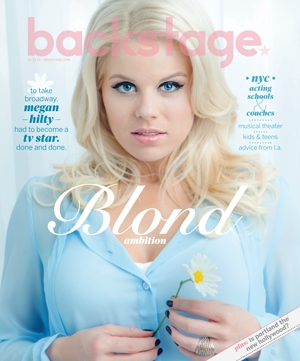 Sean Hayes guest stars on the second season of "Smash," but Megan Hilty first met him at an audition.
"I actually auditioned for Sean because he produces a lot of television shows," she says. "And I used to have this thing on my résumé, that I can cluck any song like a chicken. It was on my special skills because your professors are like, 'Just put a bunch of things on there as a conversation starter. It doesn't matter if you can actually do them.' And please note that I rolled my eyes! So before I left, he said, 'Wait a second. What is this singing-chicken thing?' And he made me sing 'Popular' in its entirety as a chicken. Luckily, they laughed! But there have been so many auditions that I wish I could stop just when I know it's going to be bad and say, 'You know what? I'm gonna get out of here. I'm not going to waste your time or mine anymore. I'm just going to back away. Let's just end this and do us both a favor.' "
Also in the issue, acting teacher Anthony Meindl tells New York actors what to seek out in an acting class, and we look at the top training programs for New York's child actors and musical theater performers. For these stories and more, pick up a copy of Backstage on newsstands Jan. 31!