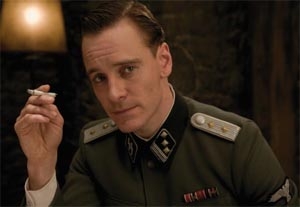 As a German-born actor raised in Ireland, Michael Fassbender originally had dreams of becoming a lead guitarist in a heavy metal band. However, he quickly realized it wasn't the right path for him, claiming, "It wasn't in my genes." Now, as an actor, Fassbender has landed his highest-profile role to date as British Lt. Archie Hicox opposite Brad Pitt in Quentin Tarantino's upcoming World War II film, "Inglourious Basterds." This is just the first of several films he will appear in in the coming year, including 2010's "Jonah Hex" starring Josh Brolin and Megan Fox.
Known to many as Stelios ("Then we will fight in the shade!") from Zack Snyder's epic "300," Fassbender's big break occurred in 2001 with the highly acclaimed HBO series "Band of Brothers." But he put himself on the map with last year's "Hunger," for which he won several awards for his portrayal of Bobby Sands, an Army volunteer–prison inmate who led the 1981 Irish hunger strike. With the long-awaited "Inglourious" set for release Aug. 21, Fassbender is on his way to a long, lucrative career. Though "The Basterds," a groups of Jewish American soldiers, are the driving force behind the plot, Fassbender is front and center in one of the film's most memorable scenes: a shootout in an underground bar.
Eloquent and gracious, Fassbender recently sat down with Back Stage to discuss the struggles he faced, how he initially prepared for a different "Inglourious" role, and his upcoming Joel Schumacher–directed film, "Creek," which is still awaiting a release date.
Back Stage
: What originally attracted you to this role?
Michael Fassbender
: Quentin Tarantino, really—any opportunity to work with him, first and foremost. I was really gunning for the Landa role, but Christoph Waltz was rightfully chosen. I did a lot of prep on that, and Quentin said to my agent, "Tell him to come out and audition." They said to take a look at Landa and Hicox, and I couldn't really divide my time and commit to both, so I just threw all my eggs in the Landa basket, and then I arrive in Germany, and he says, "Okay, let's take a look at Hicox. So I thought, "Shit, what about Landa?" and he's like, "I cast my Landa Tuesday," so I was like, "Okay, well I'm not going to argue with Quentin and tell him to how to cast a film." So we read it and he gave me a few notes; all you have to do is really listen to him and its very sort of clear what he's looking for. So he said to me, "Everyone is coming in and reading this script like Michael Caine, and I'm not looking for that." So I was like, "Okay, I don't want to do this sort of cool, commando killer." He was looking for a bit of comedy in the role. I basically sort of tried to find that comic element. I just really wanted to explore the idea of the George Sanders character—it was written in the script "a young George Sanders type." I watched as much as I could and tried to study that mannerism, the physicality of a 1930s, '40s movie star. I thought it was kind of interesting to take that sort of vanity as well and bring it to Hicox. I tried to expand on that humor as much as possible and try and find the happy balance without it tipping into ridiculous.
Back Stage
: Your character is a film buff and critic, so with that in mind, do you pay attention to your critics? Do you take their comments into consideration?
Fassbender
: I'll be honest with you; I don't really read the reviews. [Laughs.] An actor, Mel Smith, taught me that. He said, "If you live by the sword, you die by the sword." It's not to say that I never read, but I keep it to a minimum. I'm sort of good when I watch myself and see the things that I do well and things I mess up.
Back Stage
: Is that something you typically like to do? Watch your own films?
Fassbender
: Yeah, I'll watch them twice, three times tops. I'm pretty good like that to sort of look at an object and know where I hit the mark and other times I'm a bit off. I think it's somewhat important to sort of learn and continue through the craft.
Back Stage
: Growing up in Ireland, when did you realize you wanted to be an actor?
Fassbender
: I was lucky because this guy Donnie Courtney, who was a local lad, basically went off to Dublin and studied in the Gately Theatre there and came back down to Killarney and opened a professional company. Before that, he did a couple of classes in my secondary school, my high school. I got a sort of taste for it then. He said, "Why don't you come and do some part-time work with our professional company?" And that was it; I started from there. I'd always been interested in music and the arts. I really badly wanted to be a lead guitarist in a heavy metal band, but it wasn't in my genes. But this felt right; it felt like I could express myself in this medium best.
Back Stage
: What are some of the challenges you had to overcome to get here?
Fassbender
: I didn't have a lot of money. I didn't have any money, really. In London, I was going to drama school. Afterwards, there were quite a few lean years with a lot of strange jobs along the way: working behind the bar, just lots of ordinary, character-building stuff. Work and trying to survive in a very hectic city is definitely lonely and frustrating at times when you're doing something and you don't have an opportunity to do what you really love. You're looking for some foot in, but people are like, "I need to see something first," and you're like, "Well, I need somebody to give me a job." It's kind of like a Catch-22 for a while, and then things start to slowly happen.
Back Stage
: You said you were prepared for Landa but ended up auditioning for Hicox. What is one of the worst auditions you've ever had to go through?
Fassbender
: Oh, god, there's loads of them! I struggled with the auditioning process at the beginning, for sure. It's always kind of weird when you're doing a scene for those who are hiring; you have to audition, and a lot of times it's a sterile room and you're standing on an X mark and it's somewhat unnatural. Then, after a while, I started seeing it more as a rehearsal rather than an actual audition. That helped, and I started feeling more comfortable with it. There have been loads of terrible ones where I just feel like a dancing monkey!
Back Stage
: How did "Band of Brothers" come about? That was sort of your big break.
Fassbender
: I thought that was it. I thought, "Hollywood, here I come!" And of course that was about six years ago. [Laughs.] That's the great thing about America and American productions. They really have the need to see as many people as possible. They realize that there could be somebody out there that has talent that hasn't been seen so they really do a widespread casting. I got in on "Band of Brothers" just as an audition. They offered me the part after that.
Back Stage
: I read that you're a big Joel Schumacher fan. How was it working with him on "Creek"?
Fassbender
: Great! He's just got this incredible dynamo of energy, and he just loves to work. Again, you're dealing with one of the greats that have been around for a long time. "Lost Boys" is one of my favorite horrors. He's a professional; he's very kind and nurturing, but he expects you to come with the work as well, which is only right. He works so hard, and it means so much to him. It's like all good directors; Quentin is the same. These are passionate people that really put blood, sweat, and tears into a project, and it's only right that those around them put in the same effort.