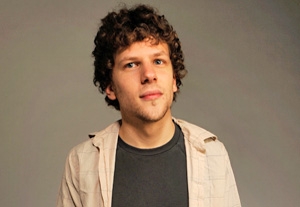 Actor Jesse Eisenberg possesses such a brilliant mind and nervous energy that he seems incapable of portraying anyone unintelligent. "Anytime you take on a role, you try to imbue it with good decision-making skills, because everybody, regardless of their intelligence, assumes they're making good decisions, even if it's something they regret later," says the actor, who is 11 credits away from his anthropology degree at the New School in New York's Greenwich Village. It's not surprising the 26-year-old actor has drawn comparisons to brainy, creative types like Woody Allen and Michael Cera.
In eight years, Eisenberg has gone from indie breakout star in "Roger Dodger" and "The Squid and the Whale" to leading roles in hits like "Adventureland" and "Zombieland." He recently wrapped David Fincher's highly anticipated "The Social Network" and has two films coming out May 14: "Holy Rollers" and "The Living Wake." Back Stage helped him land one of his first gigs as a member of the Broadway Kids in Queens.
"My sister [Hallie Kate Eisenberg] started acting first. She used to go and circle all of the things she felt she was appropriate for and audition for them," recalls Eisenberg; his sister ("The Insider," "Beautiful") became a successful child star but retired at the ripe age of 17. "I always tell actors to look in Back Stage magazine for the auditions when they ask if I have advice for them," adds Eisenberg.
A graduate of Performing Arts School in midtown Manhattan, Eisenberg gets to sing and play ukulele in one scene from "The Living Wake," a whimsical film set in a storybook world where a terminally ill man throws his own wake. Eisenberg plays K. Roth Binew's (Mike O'Connell) "best friend, authorized biographer, and poet extraordinaire" Mills Joaquin. The elegant character drives his boss around in an old bicycle rickshaw and is basically an asexual version of Smithers from "The Simpsons."
"Yes, exactly, that is a very good comparison," says Eisenberg, laughing. "Not only is he asexual, but [he's] disgusted by any mention of anything in the adult world. He's a sycophant in the most extreme sense. Mike's character is an egomaniac and occasionally blames himself for things that go wrong in his life, but Mills sees him as a bastion of purity. Not only is he his biggest fan but also he's his biggest defender. The main difficult thing was to not laugh as [O'Connell] was performing, because he's so funny. In fact, sometimes he made me laugh so much that they had to frame me out."
Founding Facebook
In one hilarious scene, Eisenberg's character distracts a prostitute by blowing powder in her face. "I do this because we don't have enough money to pay her," explains Eisenberg. "It's a joke that Mills carries around satchels of different tools for when K. Roth gets himself in terrible trouble." With only two days to prepare, the actor relied heavily on his own imagination to bring Mills to life. But Eisenberg has mainly played real-life people. In "The Social Network," he plays Facebook founder Mark Zuckerberg. Unfortunately, Eisenberg could not get face time with the 25-year-old mogul before filming.
"[Zuckerberg] is possibly the busiest person in the world but without question the busiest person my age in the world," says Eisenberg. "So it became kind of impossible. Also, that wasn't the intention of the movie, to create a direct facsimile of someone." He continues, "My concern is, 'How can I make it real for myself? And how can that add to the texture of the character?' I like the Atlantic [Theater Company] approach in that book 'Practical Aesthetics.' The most helpful thing for me is figuring out what's driving the character emotionally and maintaining it over the course of filming."
Though a film star, Eisenberg is not a film buff, so when he was cast in the coveted lead role in a Fincher film, he was most excited about the amount of takes the technical wizard allots his cast. "It couldn't have been a more ideal circumstance to be able to do a scene 30 times from one angle. It's just wonderful. You can do it 30 different ways if you want to or you could do it the same way and try to get it right. That's a luxury that's only afforded to the great filmmakers working today like him," explains Eisenberg. "He's so in tune with what you're doing, it's almost scary. The first scene we did I had a bad take 15 takes in, and I was kind of embarrassed because I didn't think it was going well at all. He knew right away. He cut it off, like, four lines into it."
Don't even think about adding Eisenberg as a friend on Facebook. "I occasionally get recognized on the street, which overwhelms me and makes me a wreck for the day. So I'm not trying to pursue other avenues of socialization," says the cerebral, self-conscious star. "I get recognized all the time as this guy [John Gallagher Jr.] from 'Spring Awakening.' Even a few nights ago, a friend who is a mutual friend of the two of us thought I was [Gallagher]. So that still happens, and now he's in the new Green Day musical on Broadway ['American Idiot'], so it just reinforces that that will happen." And does Gallagher get recognized as Eisenberg? "He's a rock star. I'm sure he gets recognized as him only." 
Eisenberg has flirted with the idea of retiring from acting like his sister and becoming a writer. He has already written a musical and two plays, one of which is in the early stages of being made into a movie in Poland. "I love acting," he says warmly. "I've gotten to be in really good things, but I assume they would have been as good or better without me or with someone else. But writing couldn't be a lonelier profession. It's hard to make a living writing anything really, especially plays, so I feel fortunate to get acting jobs that are creatively fulfilling and also provide an income."