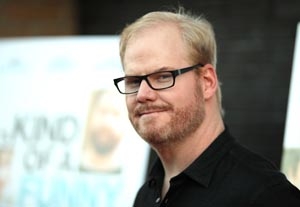 Best known as a deadpan standup comic, Jim Gaffigan is floored to be making his stage debut in the Broadway revival of Jason Miller's "That Championship Season."
Co-starring with veterans Brian Cox, Chris Noth, Kiefer Sutherland, and Jason Patric, he's playing George Sikowski, a desperate, blustering small-town mayor. Directed by Gregory Mosher, the intense drama centers on the 20th reunion of a team of high school basketball players whose championship game is the high point of their otherwise disappointing lives. During the course of the alcohol-fueled evening, festering resentments are voiced and truths revealed.
Consider the serendipity for Gaffigan, who previously guest starred on various TV shows and had a few film credits under his belt. He did his most significant dramatic acting in the film "It's Kind of a Funny Story," but his big scene ended up on the cutting room floor. At the premiere party, a conversation between his wife-cum–writing partner, Jeannie, and casting director Cindy Tolan changed the course of his career, says Gaffigan.
"Cindy asked Jeannie if I'd ever do a play and Jeannie said I'd love to do a play. Later when I heard about the conversation I thought it might be a part in community theater or an Off-Broadway production or maybe even on Broadway, where I'd come on stage carrying a spear. About a month later I got an email asking if I'd want to audition for 'That Championship Season.' I read the play."
He pauses, convinced even in retrospect that his part would go to such stars as Philip Seymour Hoffman or Paul Giamatti. But Gaffigan was determined to give the audition a shot, and armed with his wife's relentless coaching—what he dubs "the Jeannie Gaffigan Conservatory of Acting"—he booked the role without even one callback.
The experience has been daunting. "This play opens with George talking for six pages," Gaffigan remarks. "The enormity of the part is very intimidating. I went into Christmas break sick and panic-stricken. I've never had more than one speech or monologue in anything I've done on TV or film." What most prepared him for his stage debut, aside from Jeannie's coaching, was his experience as a standup comic performing in front of a live audience. Gaffigan admits frankly that previews and the presence of an audience were the most comfortable part of the rehearsal process.
Hooking into the character—a man far afield from himself—has been an ongoing challenge. Gaffigan now recognizes elements of his father's personality and worldview in George. As the president of a bank in a small Rust Belt town, his dad had authority, status, and perhaps even an inflated sense of self, he remarks. "Like my dad, George is a sweet guy who is flawed. I find I walk like my dad when I'm playing George. I didn't plan it that way. I became aware of it after the fact."
Hoosier Dreams
Born and raised in Chesterton, Indiana, Gaffigan always wanted to perform, but didn't know anyone in the entertainment field and saw his dream as unrealistic. "I grew up in a family that was security-driven," he recalls. "So the thought of being an actor, comedian, or even a writer seemed very risky and non-stable."
Gaffigan majored in finance at Georgetown University, launched a business career, and hated it. Relocating to New York, he landed a job in advertising and began testing his comedy muscles at open-mic nights. "The thing about standup is that once you get laughs, you're all right," he says. Nevertheless, Gaffigan had a fear of public speaking and enrolled in an improvisational class to address that terror, which plagued him for close to seven years, he says. His anxiety centered on extemporaneous banter with the audience. But as long as he had well-rehearsed pieces, he was not too uncomfortable.
His major turning point was booking his first gig on David Letterman. "I was the last of my comedy buddies to get a late-night show," he comments matter-of-factly. "It took me seven or eight years." Clearly Letterman recognized a soulmate in his Hoosier compatriot and invited Gaffigan to develop the CBS sitcom "Welcome to New York," which starred Gaffigan as an Indiana-born meteorologist. Though it was short-lived, the show put Gaffigan on the map and one job led to another, such as recurring roles on "That '70s Show" "Ed," and "My Boys."
But his heart has always been in standup comedy, he says, noting how his act and stage persona have morphed over time. Growing more at ease on stage, he creates challenges for himself, "like removing all curse words from my act," he offers as an example. "I've realized that when I swear the joke is not complete. I've also moved from being an observational comic to a comic that has a point of view. Observational comedy would be, 'Couches are never long enough.' But if I say, 'I can only lie on couches that are too small for me,' that's a viewpoint." In addition, he has come to appreciate the way an audience typecasts comics.
"I'm a white bread–looking guy," he observes. "I look like a Republican. So, when I get to anything political, even if I'm on the side of the audience, they don't want to hear me talking politics. You try to educate them, but you are who you are. It's not plotted out. It's not trying to be a certain kind of comedian. We just do what we do."
Gaffigan's current stint represents a huge learning curve. He credits his co-stars, especially Brian Cox and director Gregory Mosher for embodying "an understanding of acting and human behavior that is stunning. Gregory says, 'People don't want to see a performance. They want true moments between characters.' My whole approach to acting has completely changed. Before I would have been performance-driven, thinking, 'He's angry a this point' or 'He's responding here,' instead of listening and reacting and not knowing what I'll be feeling. Living in the moment onstage is powerful and takes a lot of bravery."
On the technical side, Gaffigan marvels at Cox's instinctive ability (admittedly, after decades of practice) to project, "without falling inflections," he says. "He allows his voice to drive through what needs to be said. I'm a very colloquial, slow-talking Midwesterner, and that doesn't work onstage."
Gaffigan would love to do more theater. As an Irish Catholic, Eugene O'Neill appeals to him, he says. " 'Moon for the Misbegotten' would be amazing. But I'm not thinking about the future. I'm still stunned by this opportunity. Jason Patric says, 'Enjoy it. Make sure you're having a good time, because in the blink of an eye it will be over.' "
"That Championship Season" runs through May 29 at the Bernard B. Jacobs Theatre, 242 W. 45th St., NYC Tickets: (212) 239-6200 or (800) 432-7250; telecharge.com or thatchampionshipseason.com.
OUTTAKES
– Guest starred in "Royal Pains," "Law & Order," "Law & Order: Criminal Intent," "Law & Order: Special Victims Unit," "Hope & Faith," "Sex and the City," "Third Watch," among others.
– Appeared in such films as "Away We Go," "Going the Distance," and the upcoming "Salvation Boulevard."
– Starred on many comedy albums, including "Doing My Time," "Beyond the Pale," and "King Baby."
– Has three children and expecting a fourth child with wife Jeannie Gaffigan.