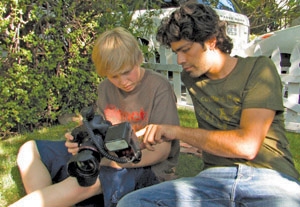 A drop-dead handsome leading man living a celebrated life in the midst of the wealthy and famous, paparazzi following his every move. Such is a suitable description for the upside of life as a movie star. For actor Adrian Grenier, this description fits his real life and that of his iconic character Vincent Chase on HBO's hit series "Entourage." It was from this viewpoint that Grenier encountered a teenage paparazzo a few years ago and could not help but stop to consider what a boy so young was doing stalking celebrities on the streets of Los Angeles at all hours searching for the perfect picture. His curiosity sparked, Grenier began developing what is now "Teenage Paparazzo," a well-received documentary that premiered this year at the Sundance Film Festival and will air on HBO starting Sept. 27.
"It sort of hit me when I saw this young, innocent, baby-faced kid wearing a camera twice the size of his head," explains Grenier of how this project was born. "I'd already been curious about media and also about the paparazzi, who were constantly lurking and roaming. So I sort of I used this kid as an entrance into this whole world." The world Grenier refers to is one that presents a distinct and looming presence in the lives of the world's most successful actors. Grenier embarked on a friendship with the "teenage paparazzo," Austin Visschedyk, then age 14. Using the insights Grenier gained from the boy and those he garnered from other paparazzi and fellow celebrities, Grenier developed a multifaceted understanding of the lifestyle, tactics, and social role of the paparazzi. Grenier also spoke with various academics on the science underlying society's relationship with the paparazzi.  
This is Grenier's second time directing a documentary (his first was 2002's "Shot in the Dark," about his attempt to reunite with his estranged father), and while he is best known as an actor, Grenier says he loves the process of filmmaking from the other side of the lens, especially documentaries. Of tackling the documentary medium, he says, "You have to have faith that when you jump blindly into a process that something will come about, because there are no guarantees. You have to let it happen—just the patience and the faith that the truth will be revealed." While the filmmaker cannot always foresee what the truth at the end of the line is, that is part of the fun. And does Grenier's own journey into the lives and social relevance of the paparazzi hold important truths for actors? Absolutely. 
In the process of making "Teenage Paparazzo," Grenier acknowledges he learned a lot about not only the subject at hand but also his own position as an actor and artist. "I think it's really important to see as many perspectives as possible," he notes. "I know that getting behind the camera has helped me as an actor; holding auditions has helped me in really amazing ways because you get to see what the whole casting process is like and what is going on in the heads of directors and casting directors, and you start to have more empathy with that process. And a lot of times it is nothing personal when I don't get called back. Sometimes I can be a great actor and do a great job, but there [are] also 10 other great actors, and then it just comes down to making a choice. So I think it gave me a lot more confidence to try things and experiment and explore without fear because I knew that ultimately it wasn't necessarily [me]—that it is a tough process to have to make those choices. So I had more empathy for the process." 
Grenier's ventures outside of acting are evidence of his entrepreneurial spirit, a trait he endorses in the ambitions of aspiring actors. He offers this advice: "My philosophy has always been, do not sit around waiting for other people to give you a part. Technology is inexpensive enough for you to go create your own opportunities. If you just have to act because that's what you want to do, then go do it. Not everybody has to be in a Spielberg movie or work with Coppola or be in television or be famous to fulfill their dreams to be an actor. You can do it on so many different levels. And if your goal is to communicate, then nothing is stopping you. But if your goal is to be a star or famous or super-rich, then you need to really question whether you want to be an actor, because that is a crapshoot." 
While it is reaffirming to see someone with success on so many levels espousing the pursuit of the art for its own sake and not the cultural bonuses so many seem to idealize, Grenier nevertheless exists in a world of success as an actor, and his professional life, with his work on "Entourage," in many ways mirrors his personal one. This is a curious existence, of which Grenier says, "I tend to relish in reality and the fact that I get to live a life with very blurred lines." When it comes to addressing his life, his character, and the paparazzi, as he does in "Teenage Paparazzo," he adds, "In [the documentary] I just try to blur the lines even more and have fun with that and at times just erase them all together. And that happened on many occasions—not only the lines being blurred between art and reality, life, but also when the hunter becomes the hunted and then turns around and becomes the celebrity himself. It's kind of fun."